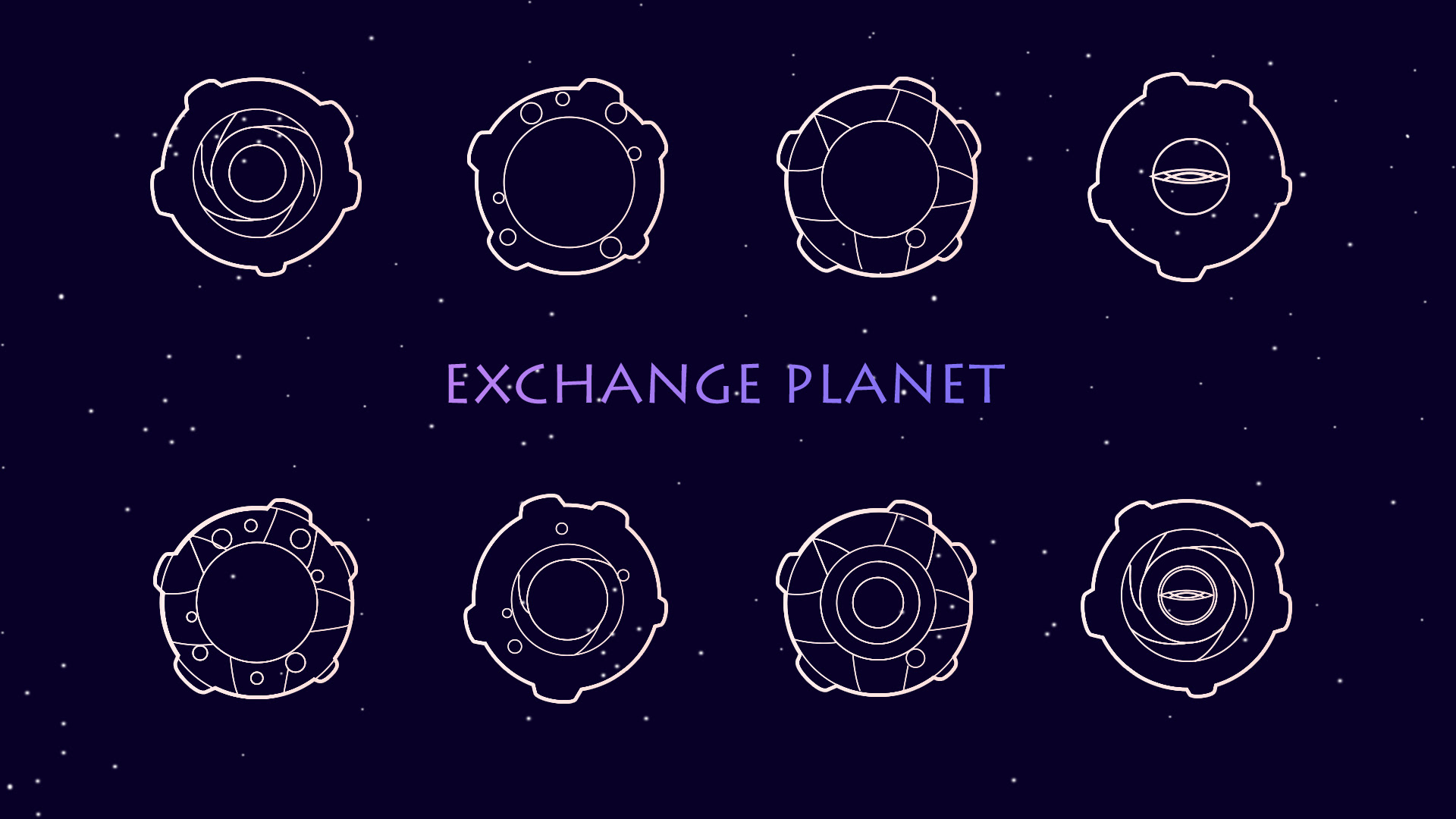 Exchange Planet is a personal project I made during my exchange to Seoul National University. I noticed that the foreign students usually go to university without carrying electronic devices (such as hairdryer, changeover plug or extension socket etc.) due to their added weight that would probably generate unnecessary fee when taking a flight. But without these devices it is hard to live in a foreign country for the first few days after arrival.
To get those products quickly and easily, without a language barrier, and without currency exchange, I came up with the idea to make a vending machine that can both sell and recycle electronic devices, which is both user- and environmentally-friendly.
Tool:
Photoshop, Illustrator, Axure, Rhino, Keyshot, After Effects, Premiere    
Category: 
UI/UX design, Product design
​​​​​​​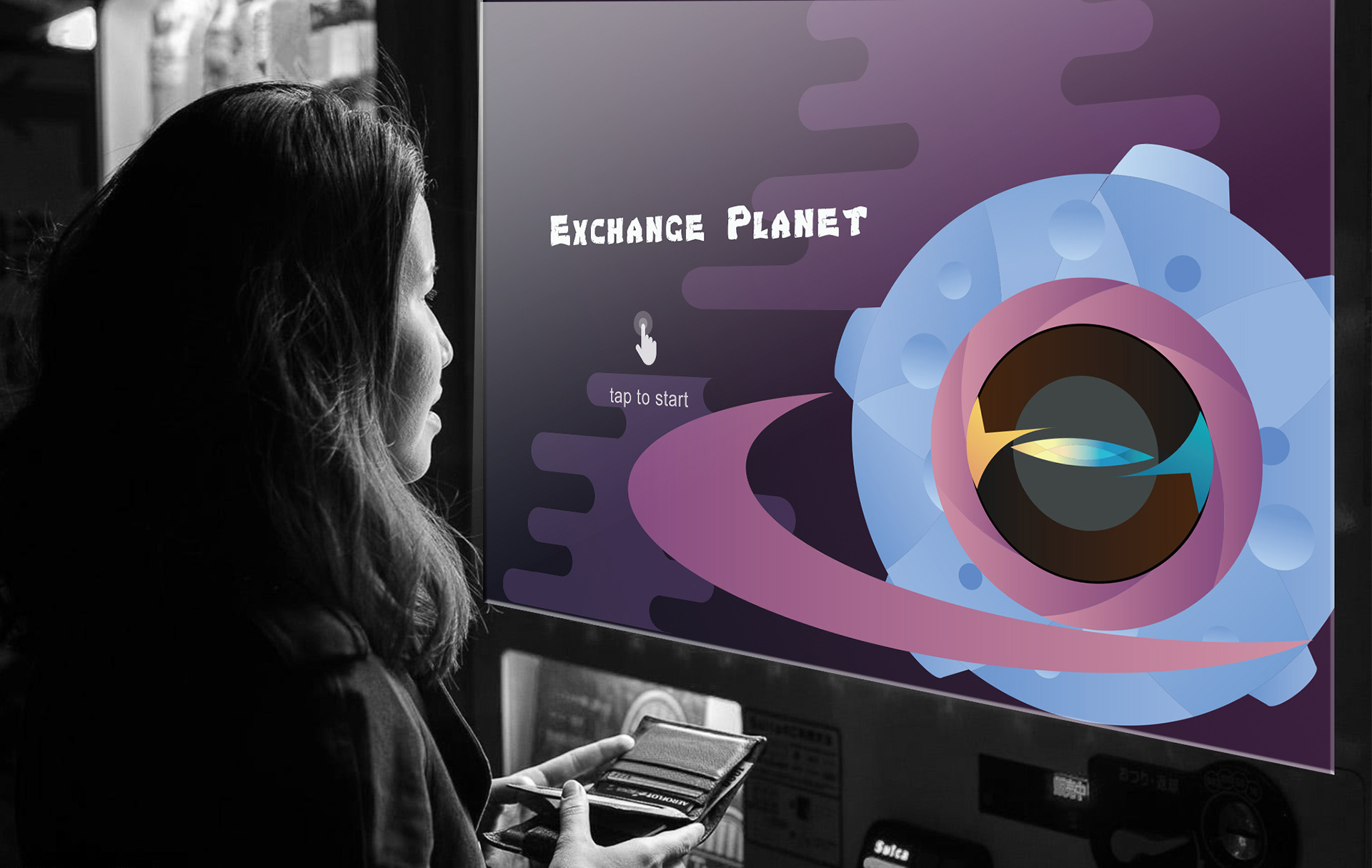 Introducing: What is Exchange Planet?
Exchange Planet was initiated from a problem around me: How can international students buying electronic devices conveniently when they first came abroad to the university? I noticed that international students was quite different from domestic students, for they have language barriers, were unfamiliar with the campus, and did not have alien register cards when arrival, which limited their access to get the necessities. By conducting interviews with students from over 10 countries, I found an interesting phenomenon that students not only found it trouble when purchasing an electronic device but also when taking it back home.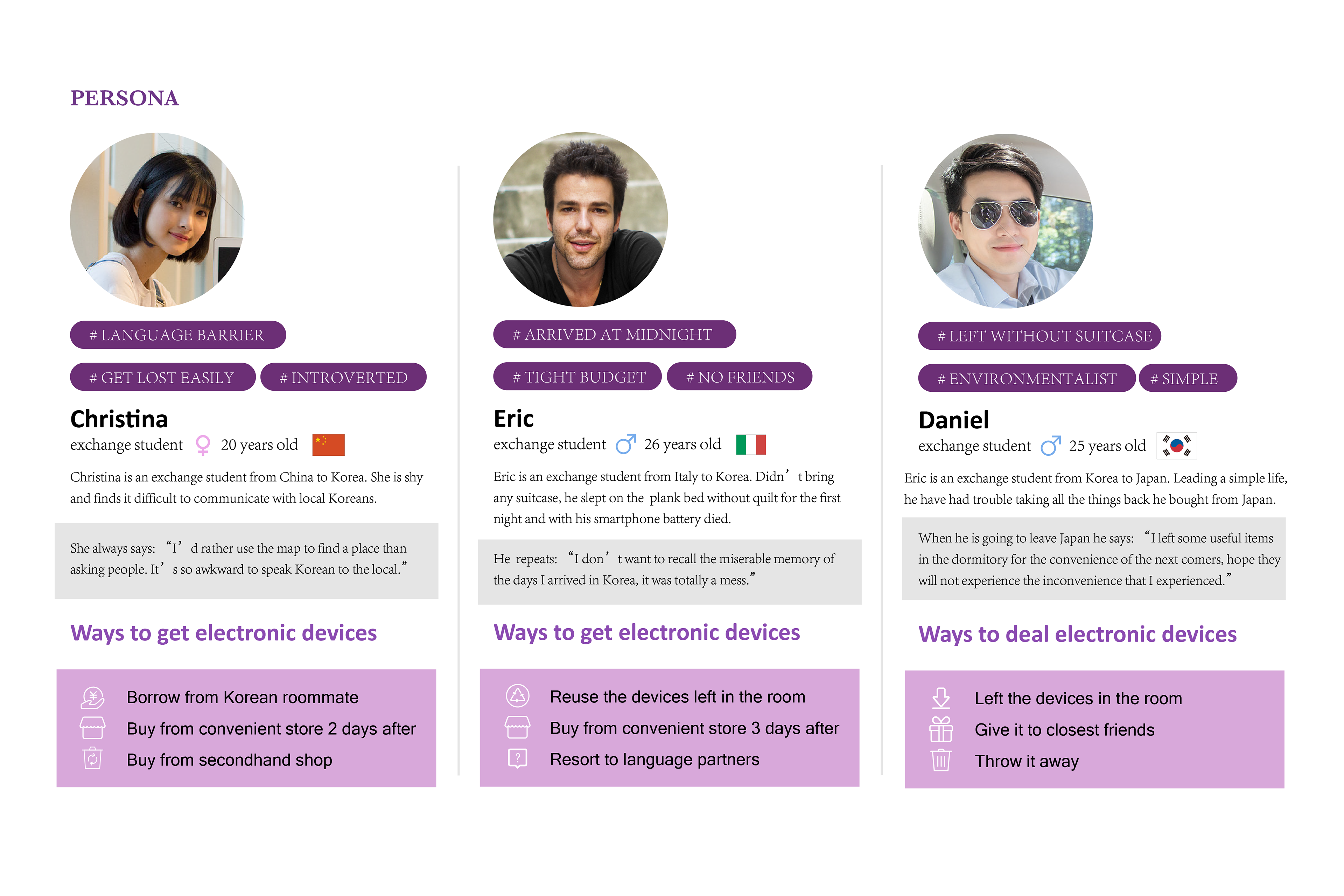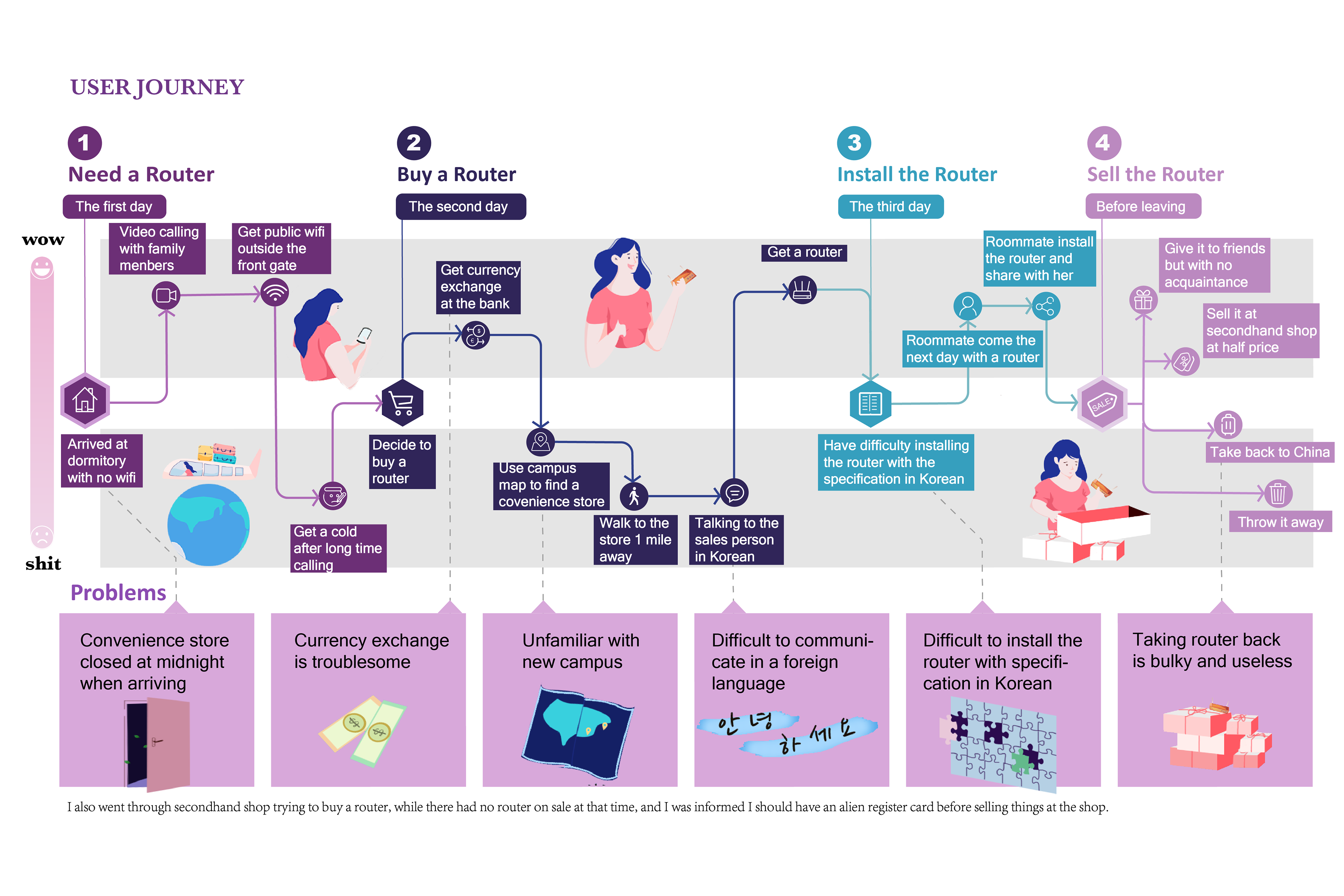 Therefore, I came with the idea to design a vending machine, which can link the buyers and sellers to exchange the product they need and need not, without searching outside. To verify whether it was an optimal solution, I went to secondhand shops and convenient stores for competitors analysis, finding an animation on vending machine to instruct user installing devices can perfectly solve users' difficulty in understanding foreign language device specifications brought from the existing ways. To further decide which device is suitable for sell, I distributed questionnaires to gather the Top 20 items in need in the first few days after arrival, then screening them according to feasibility.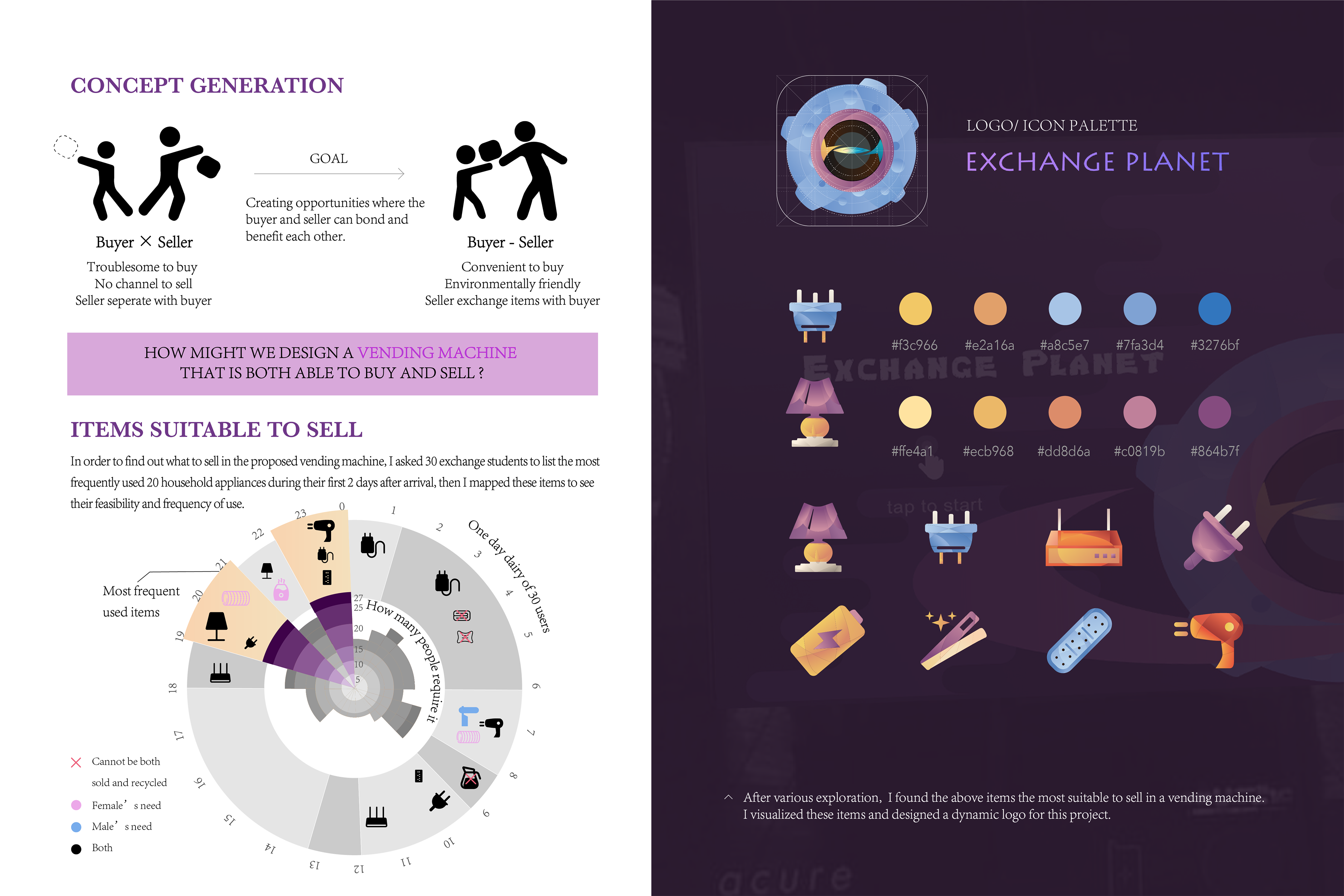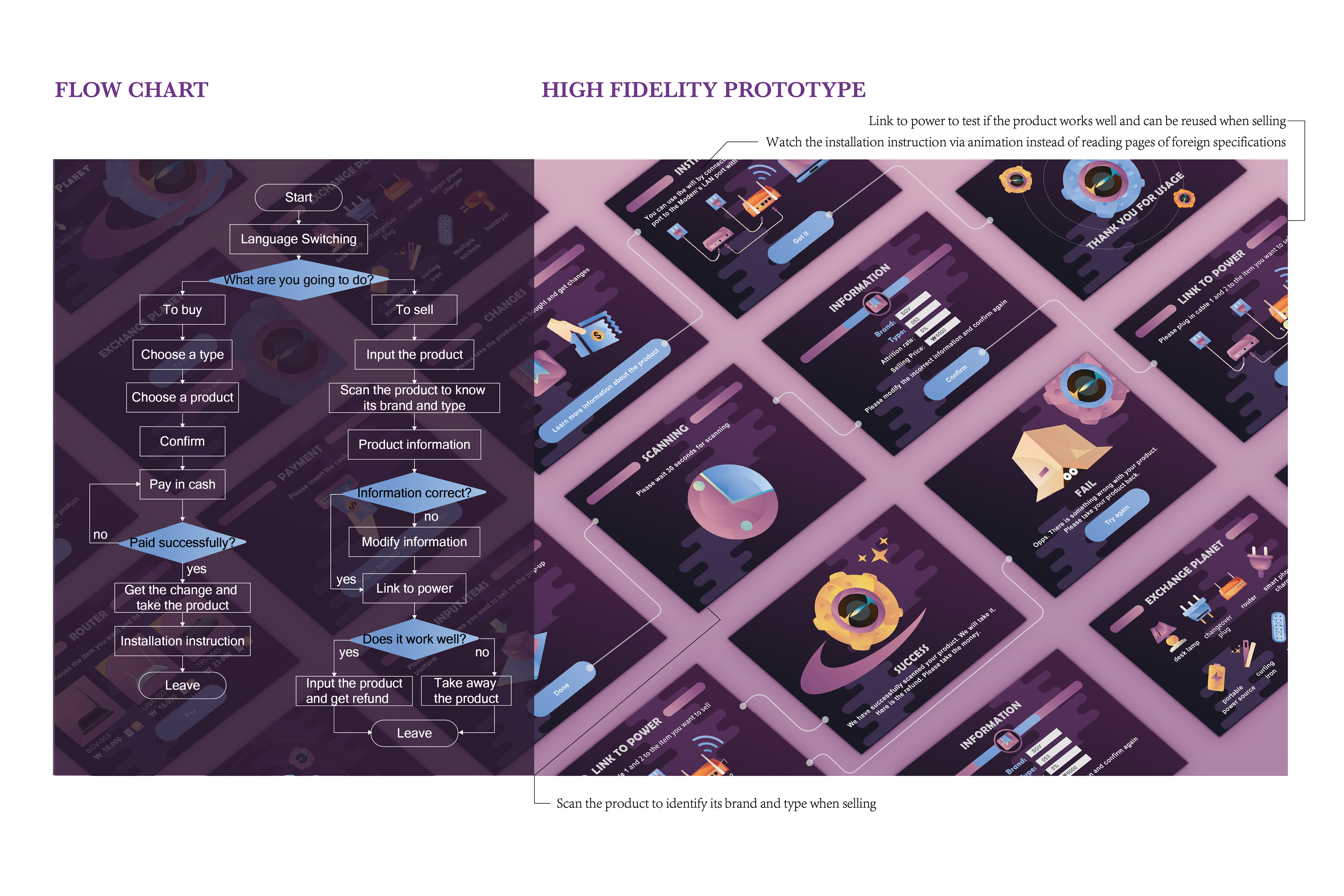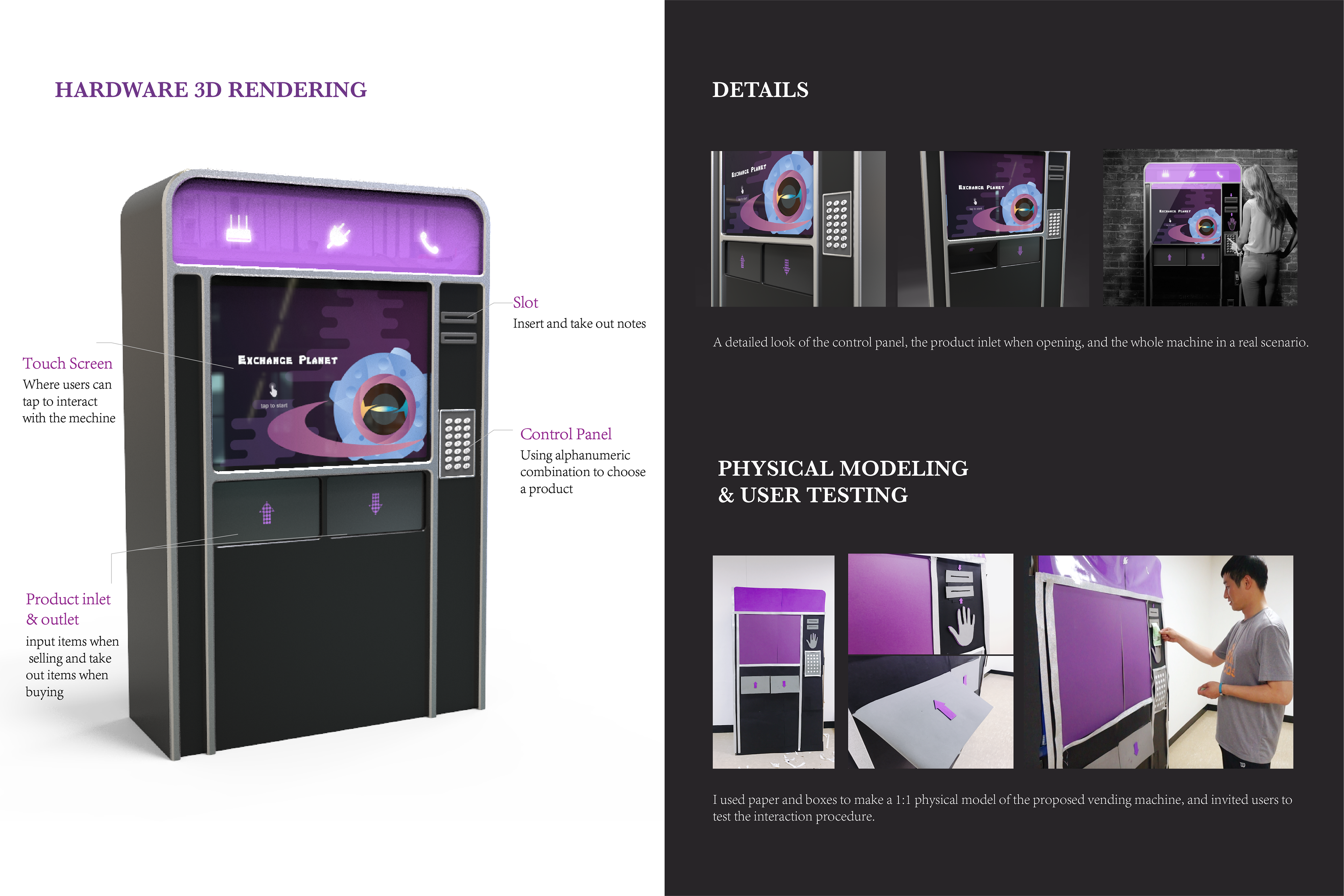 --------------------------------
Storyboard of showcase video
---------------------------------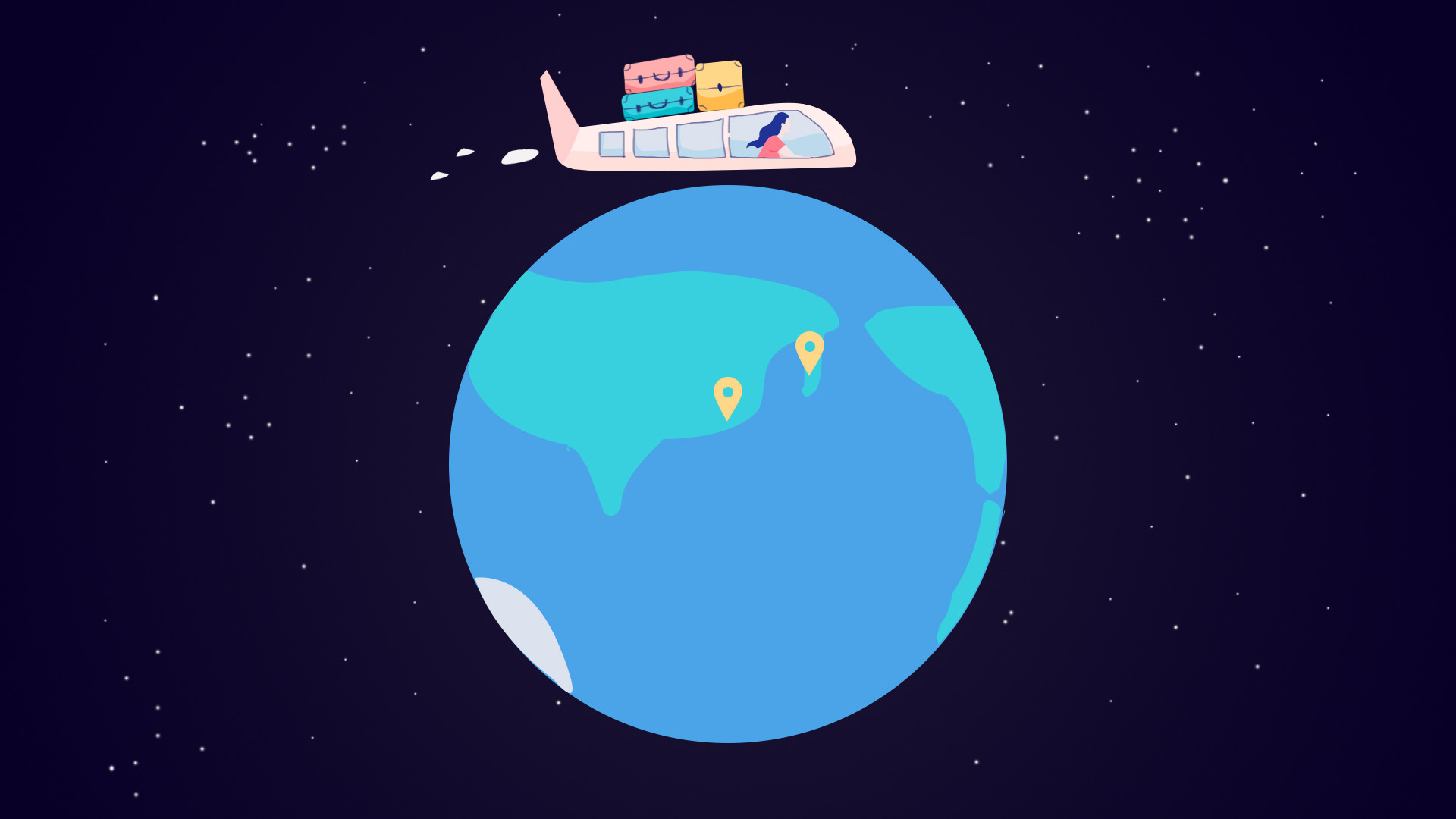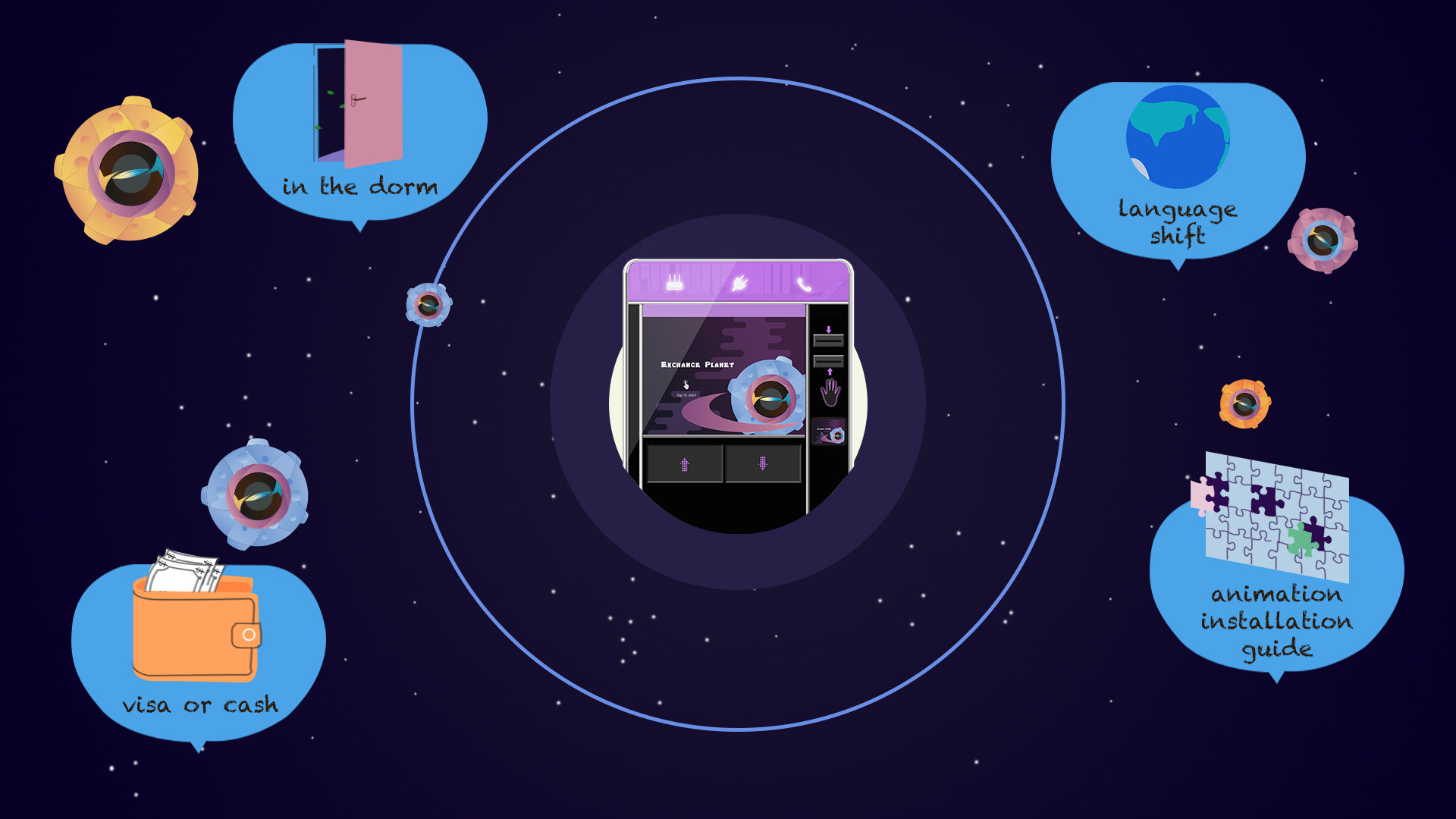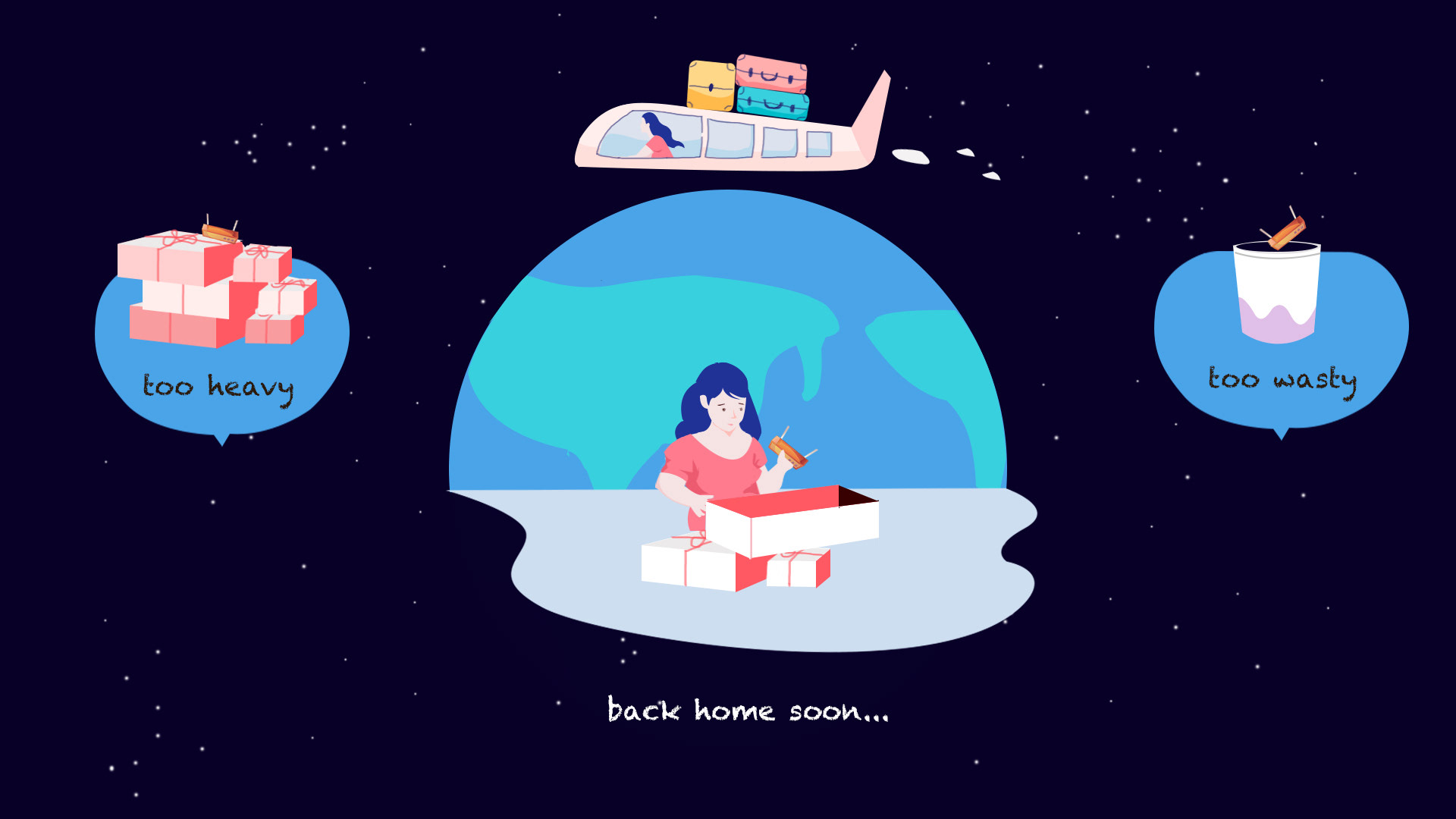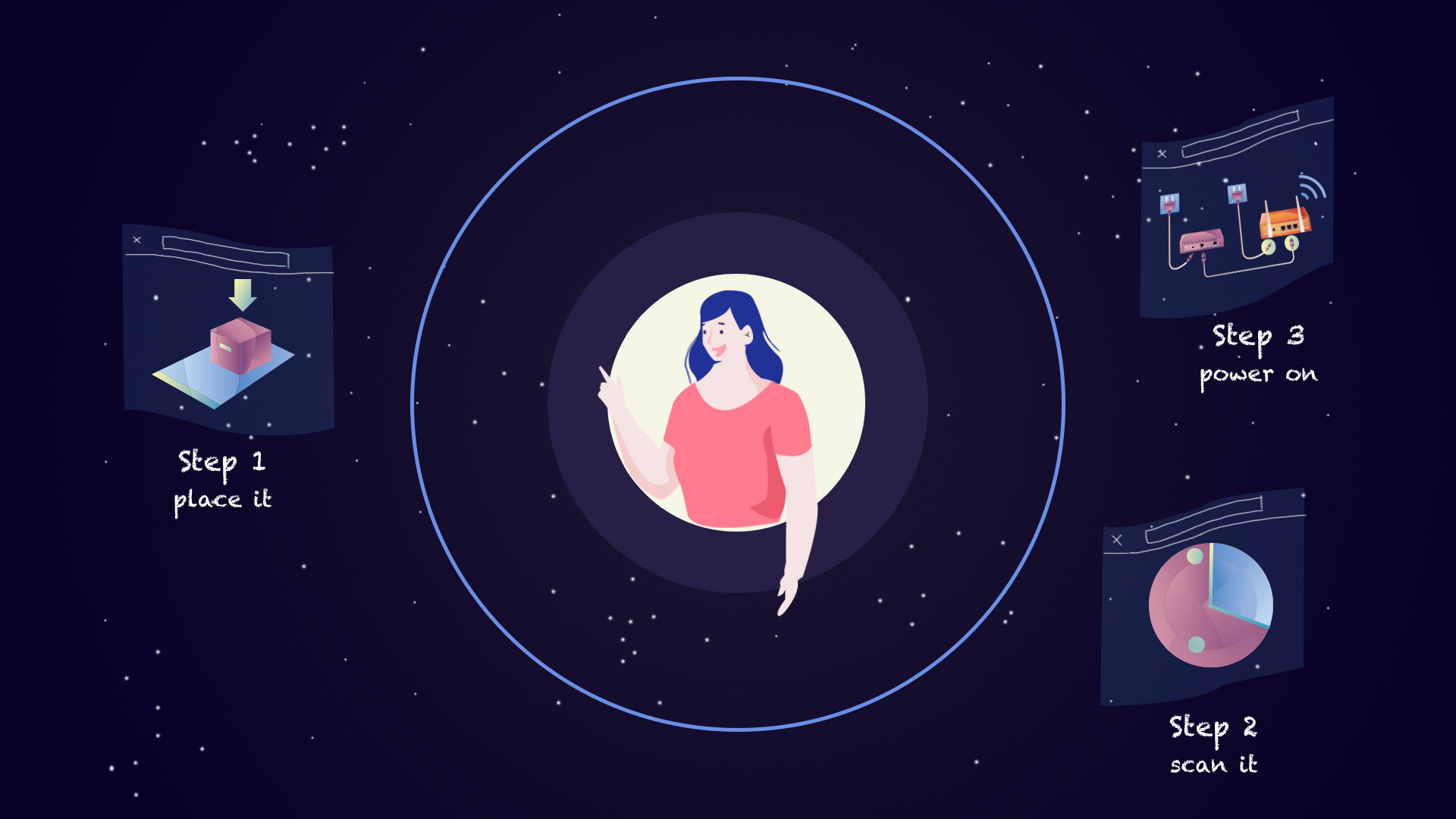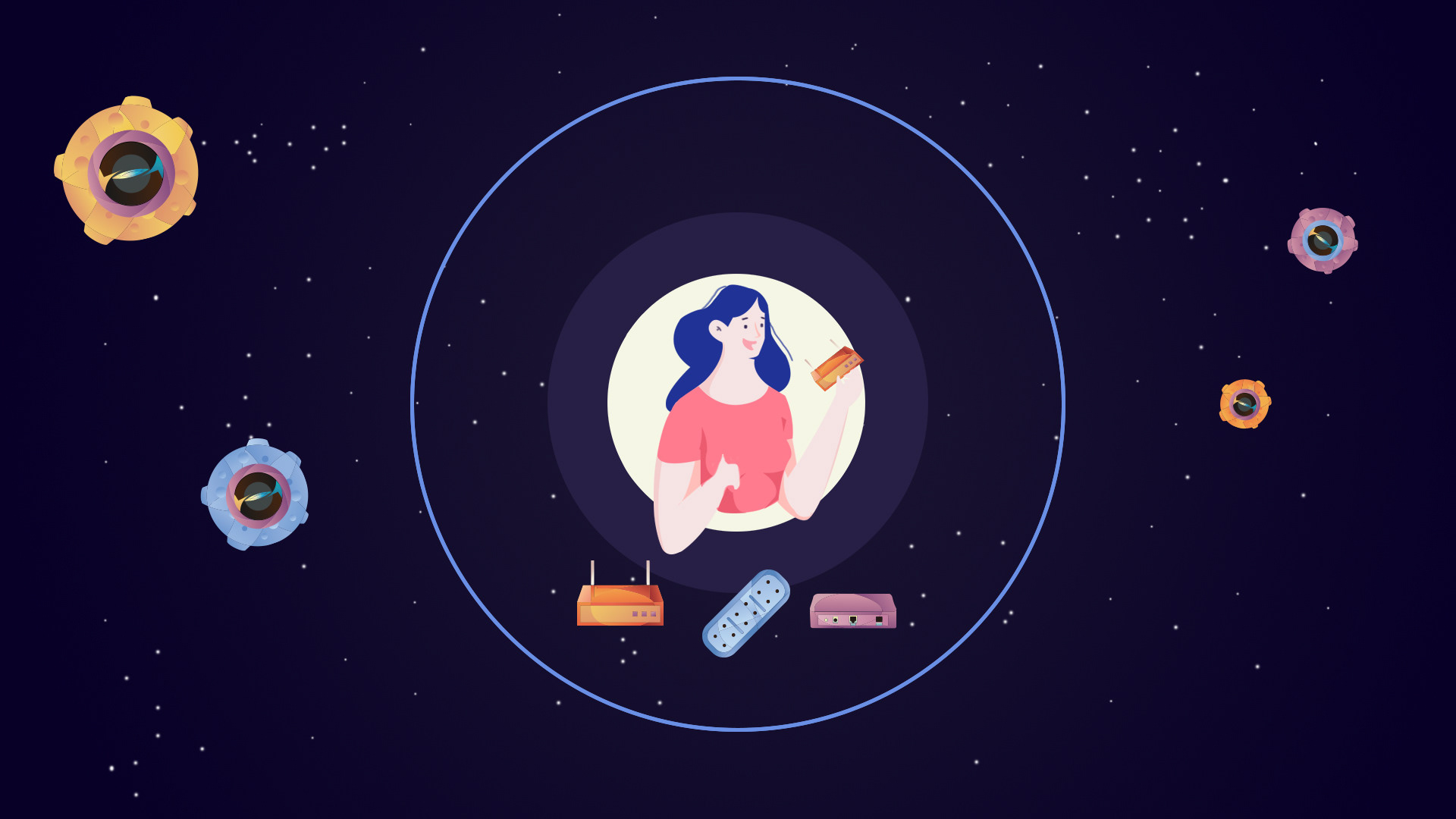 ------------------------------------------
Primary Research
-------------------------------------------
User journey of the first 3 days after arrival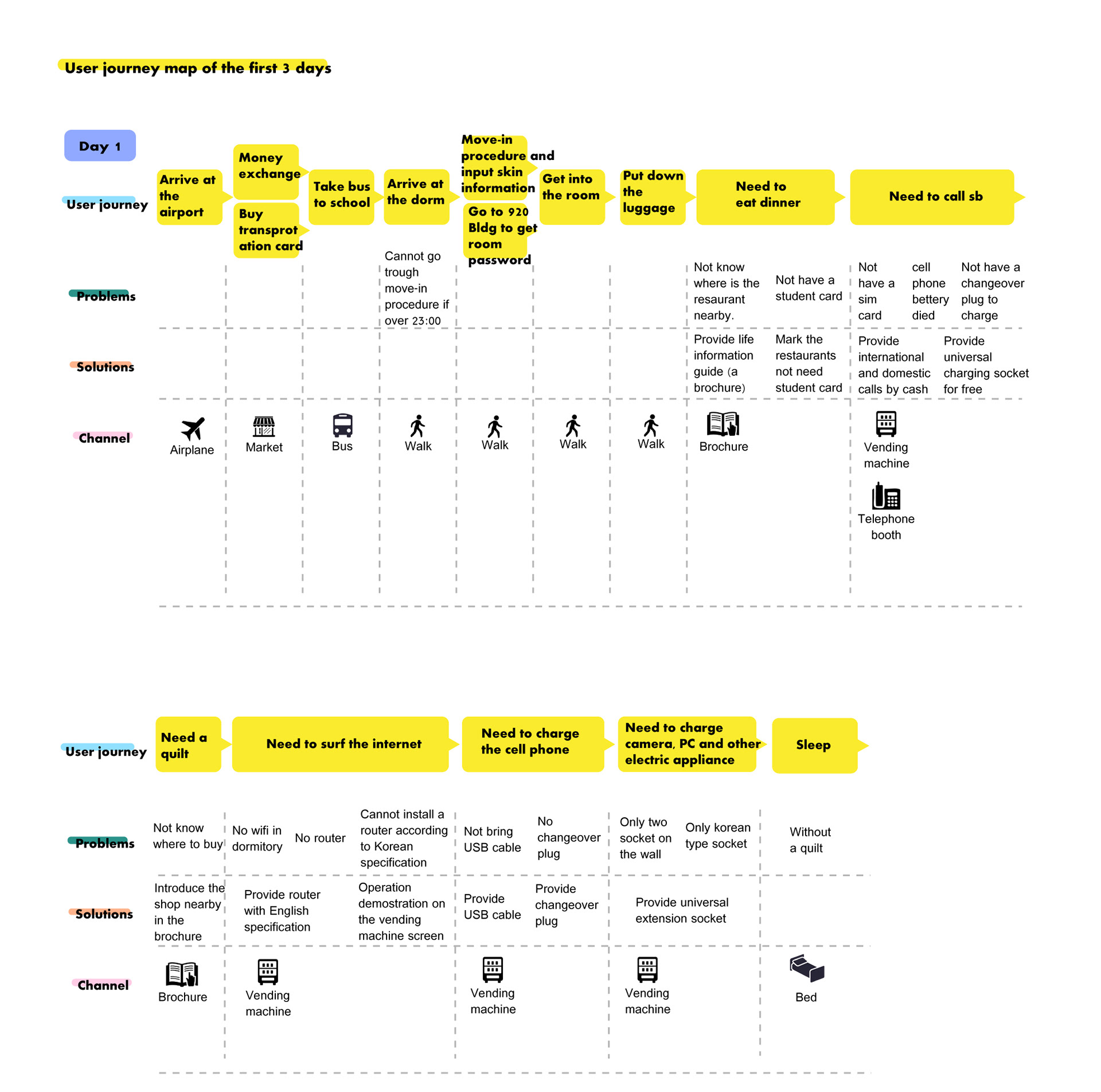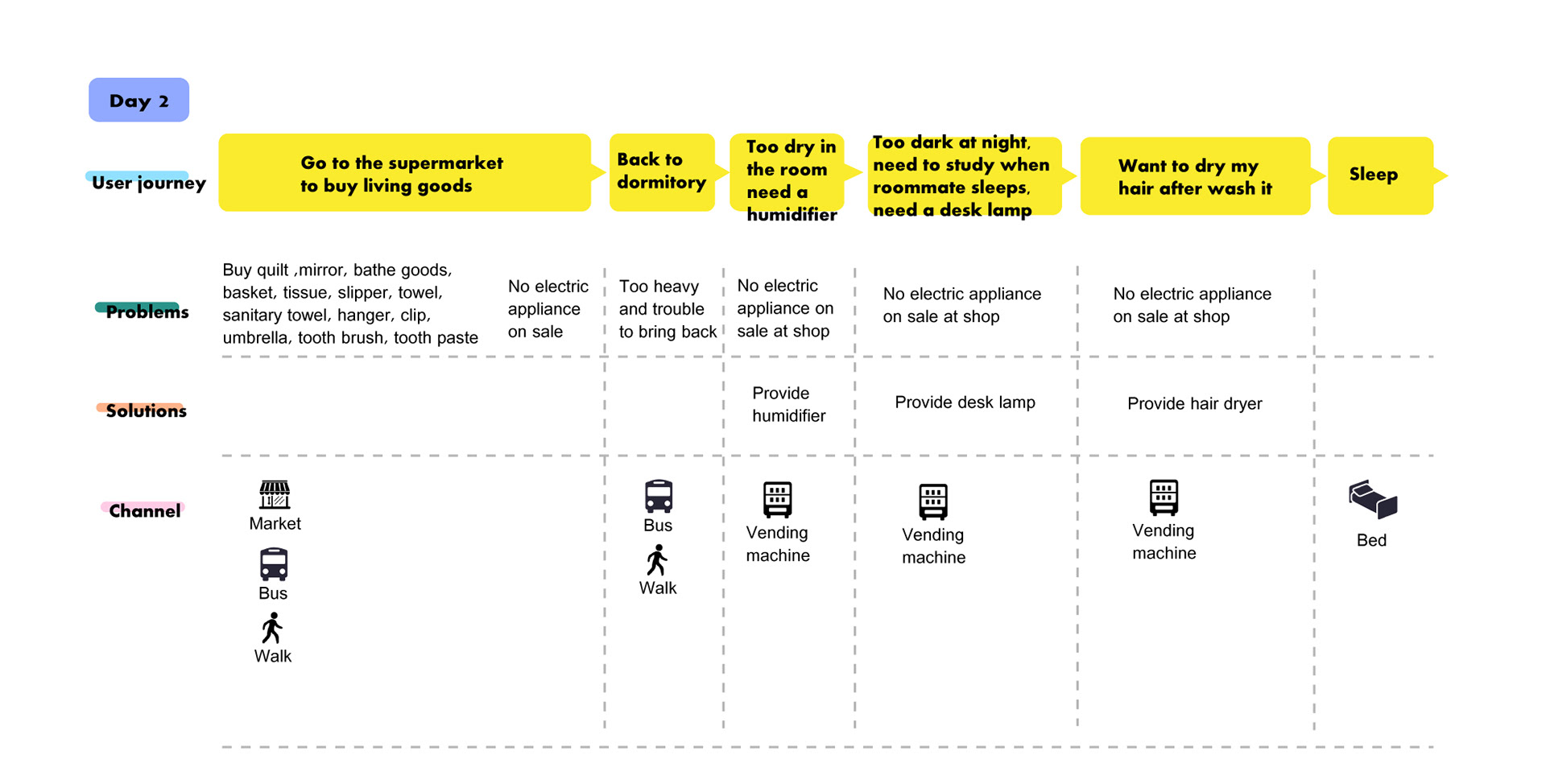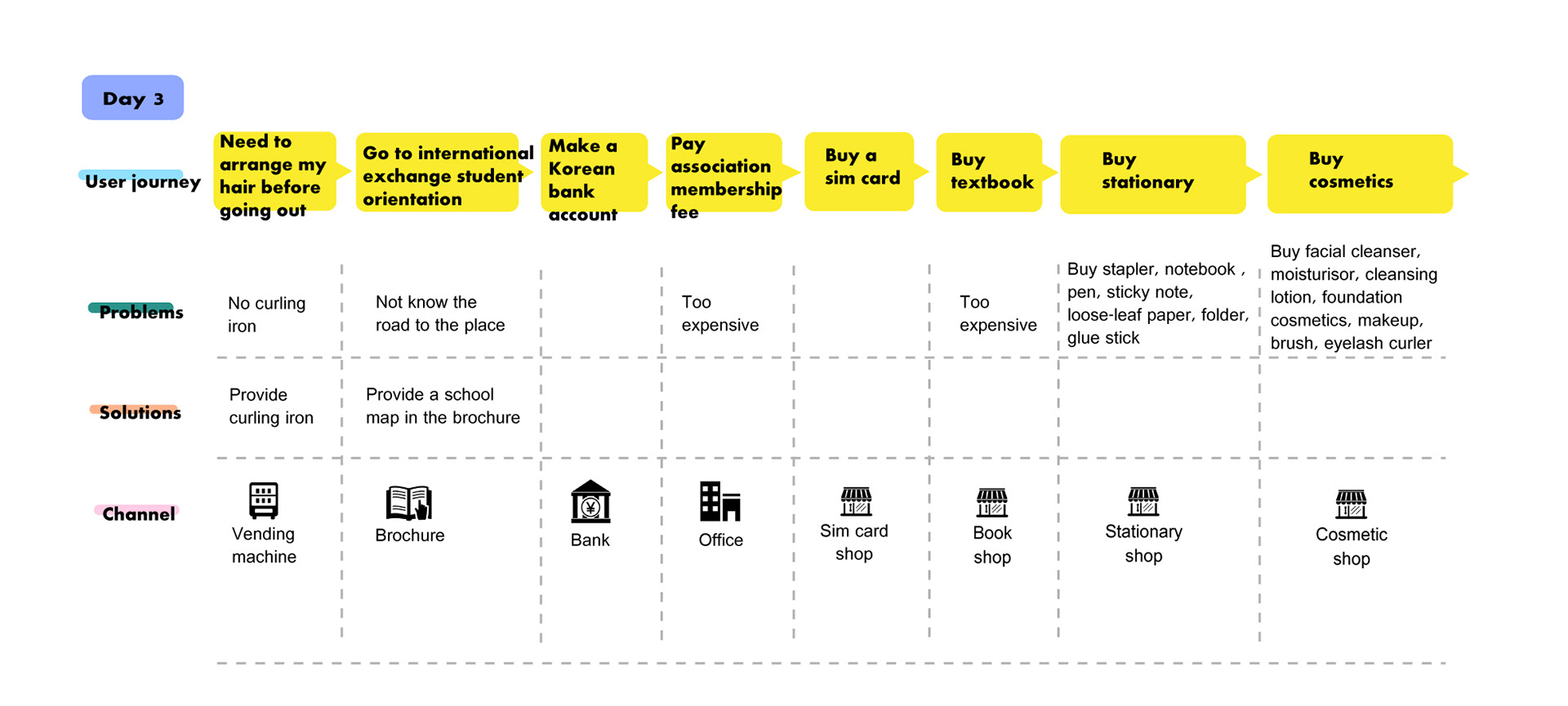 Visiting secondhand shop for competitor analysis and finding opportunities in the existing problems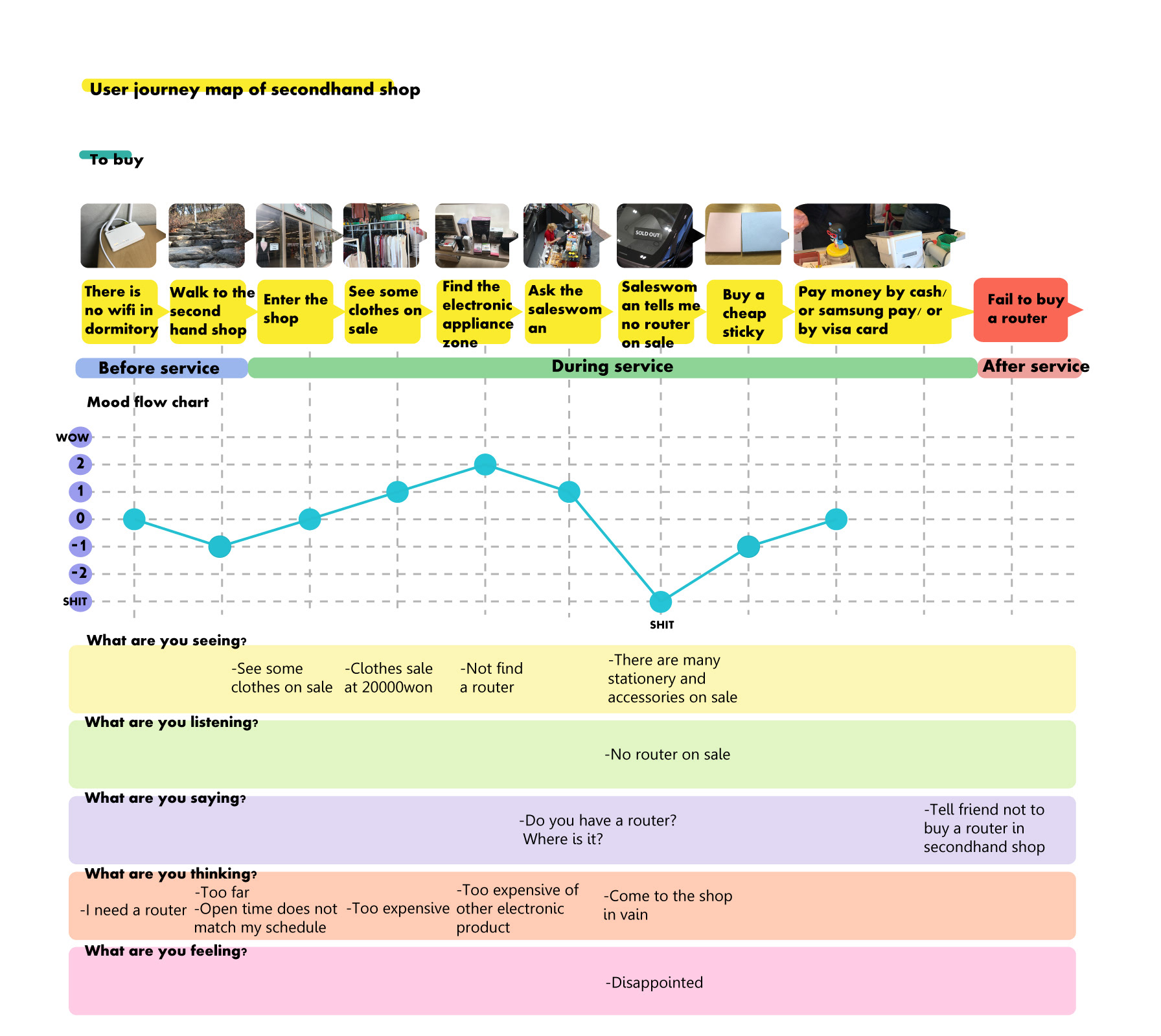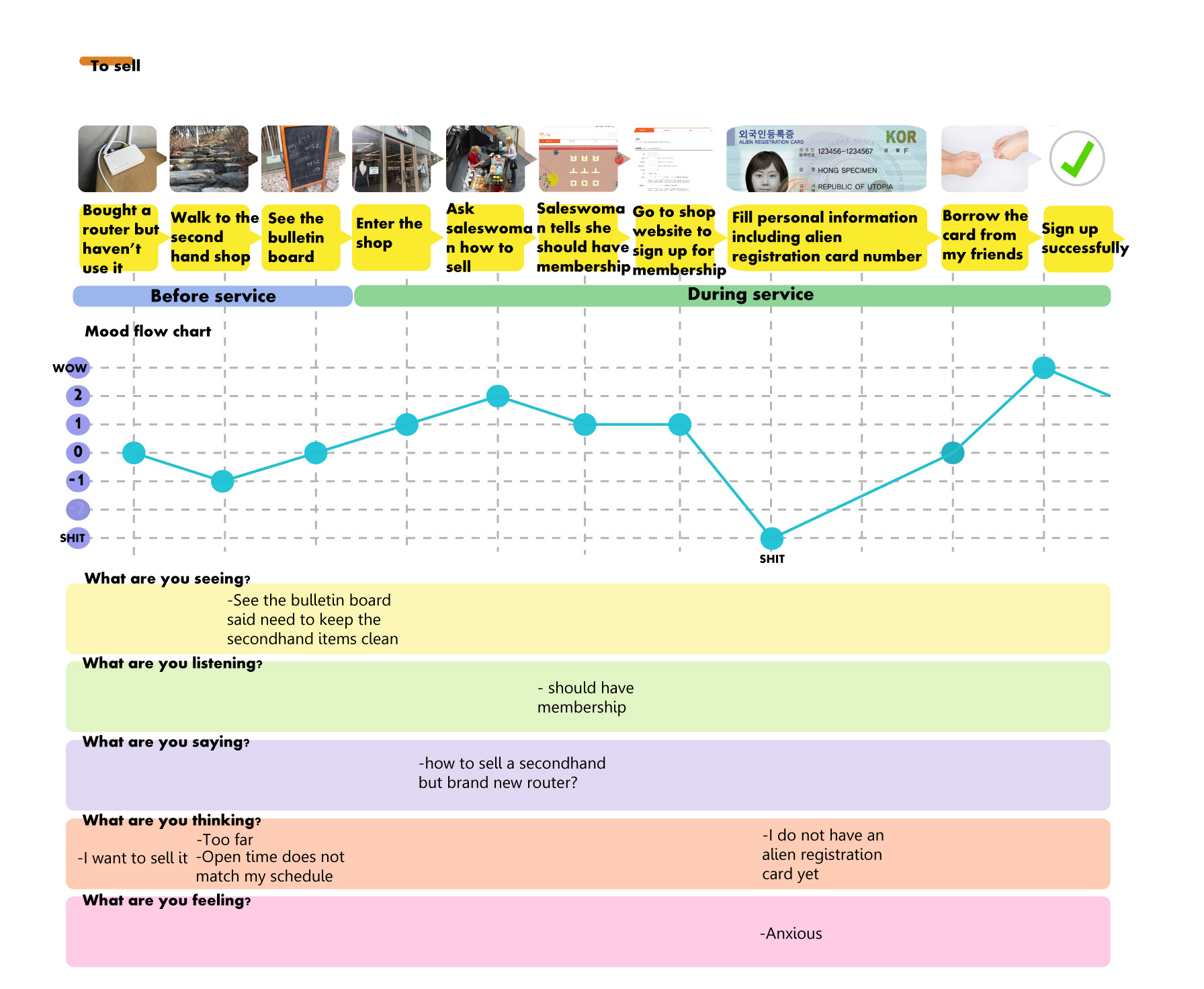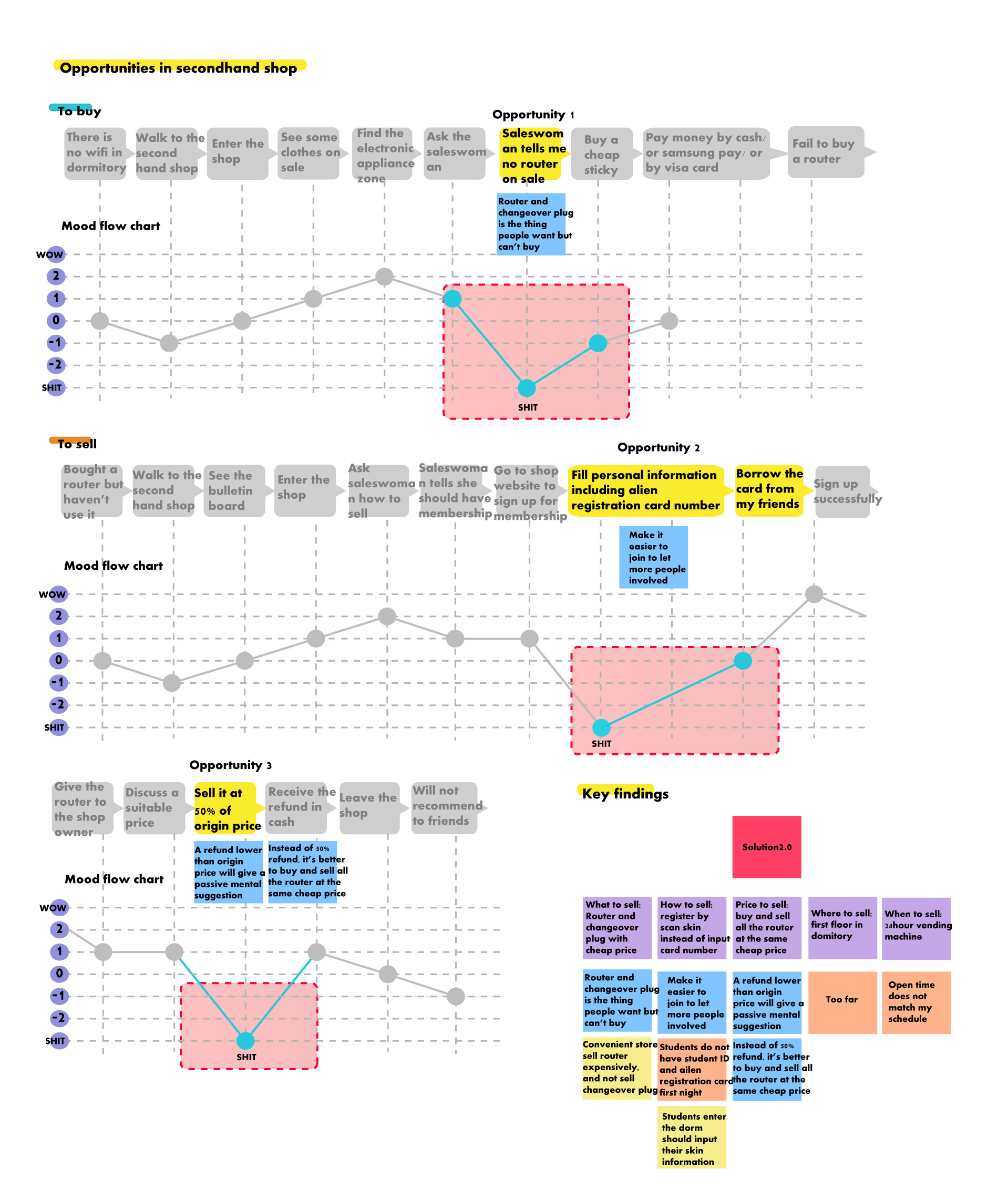 Investigating the Top 20 items user needs after arrival, and filtering them according to frequency and feasibility.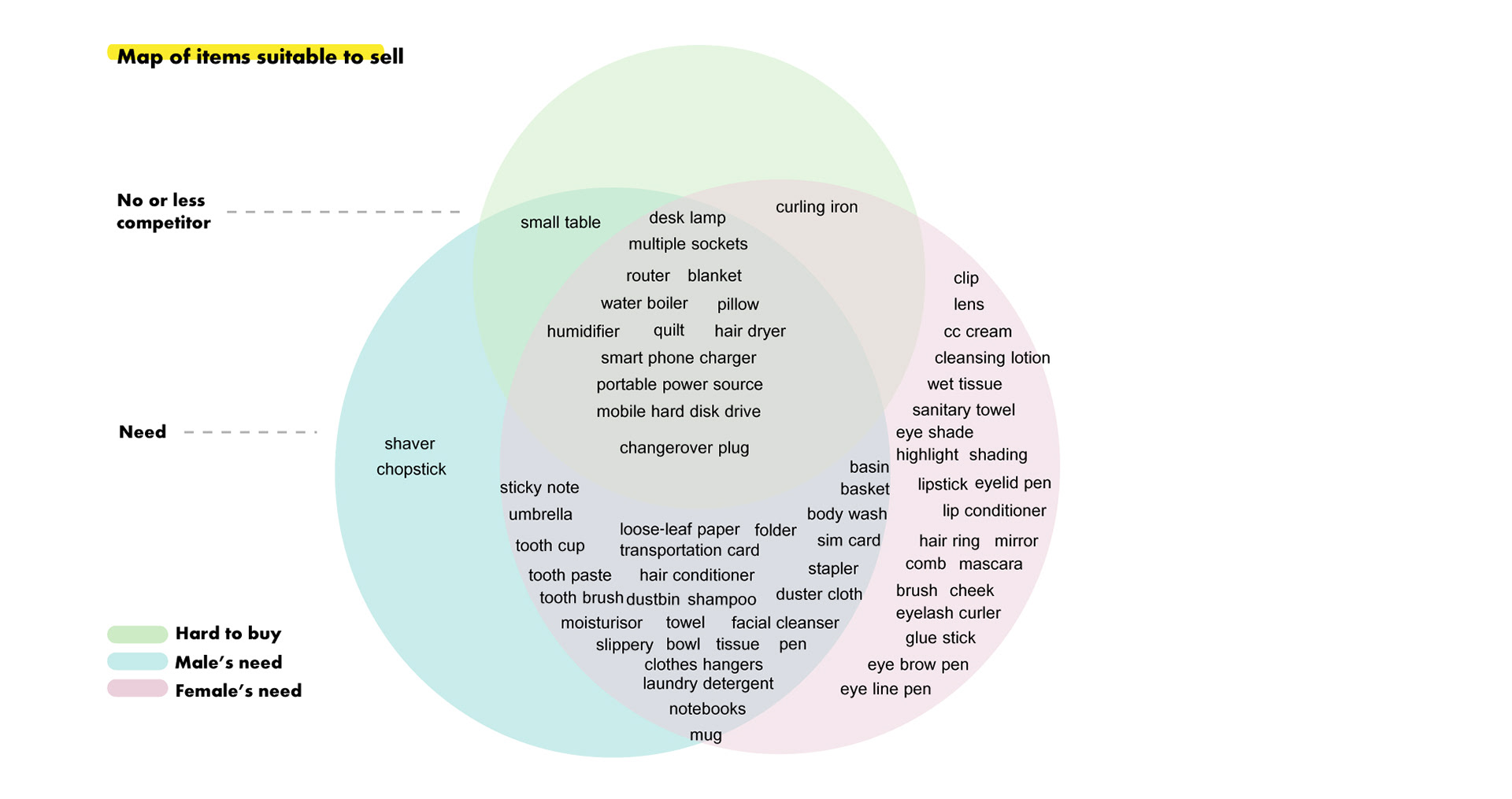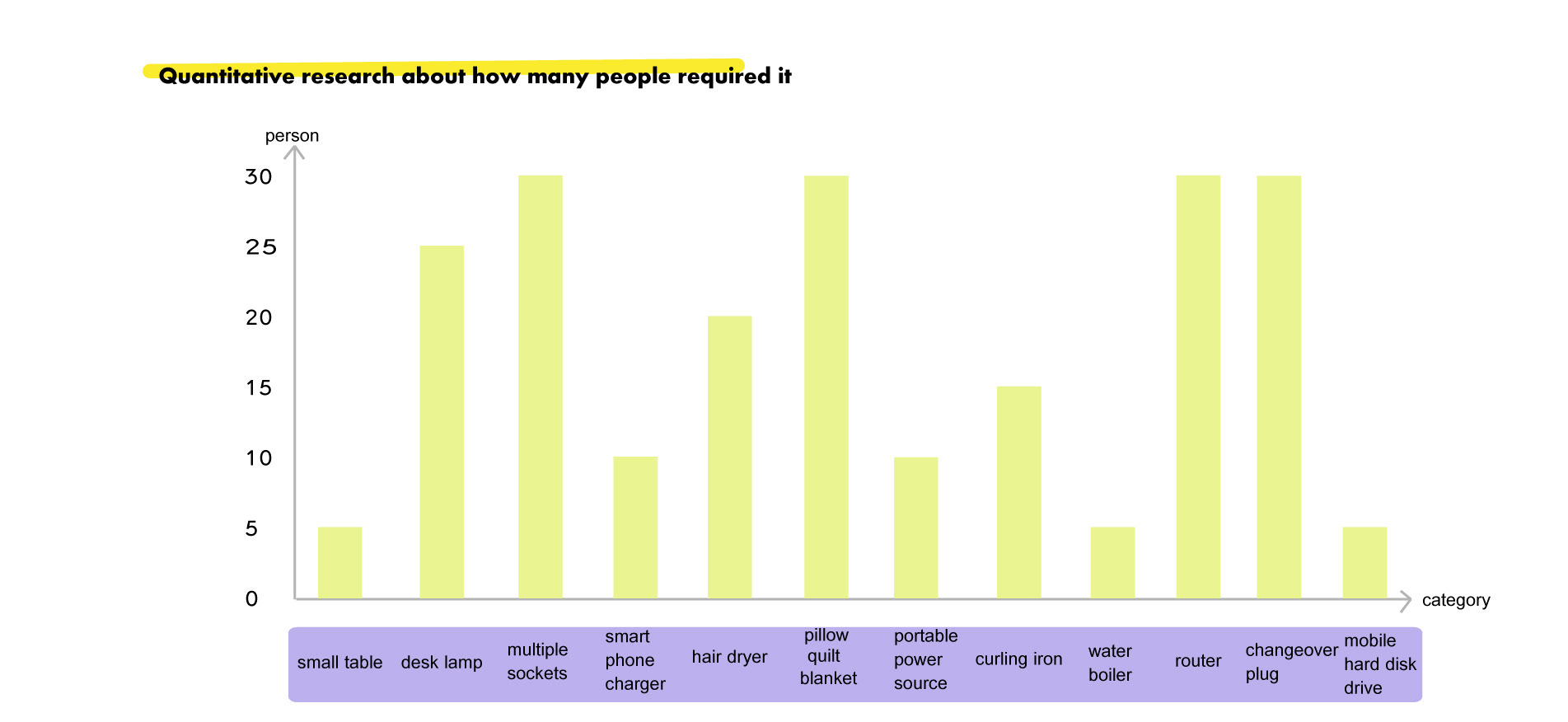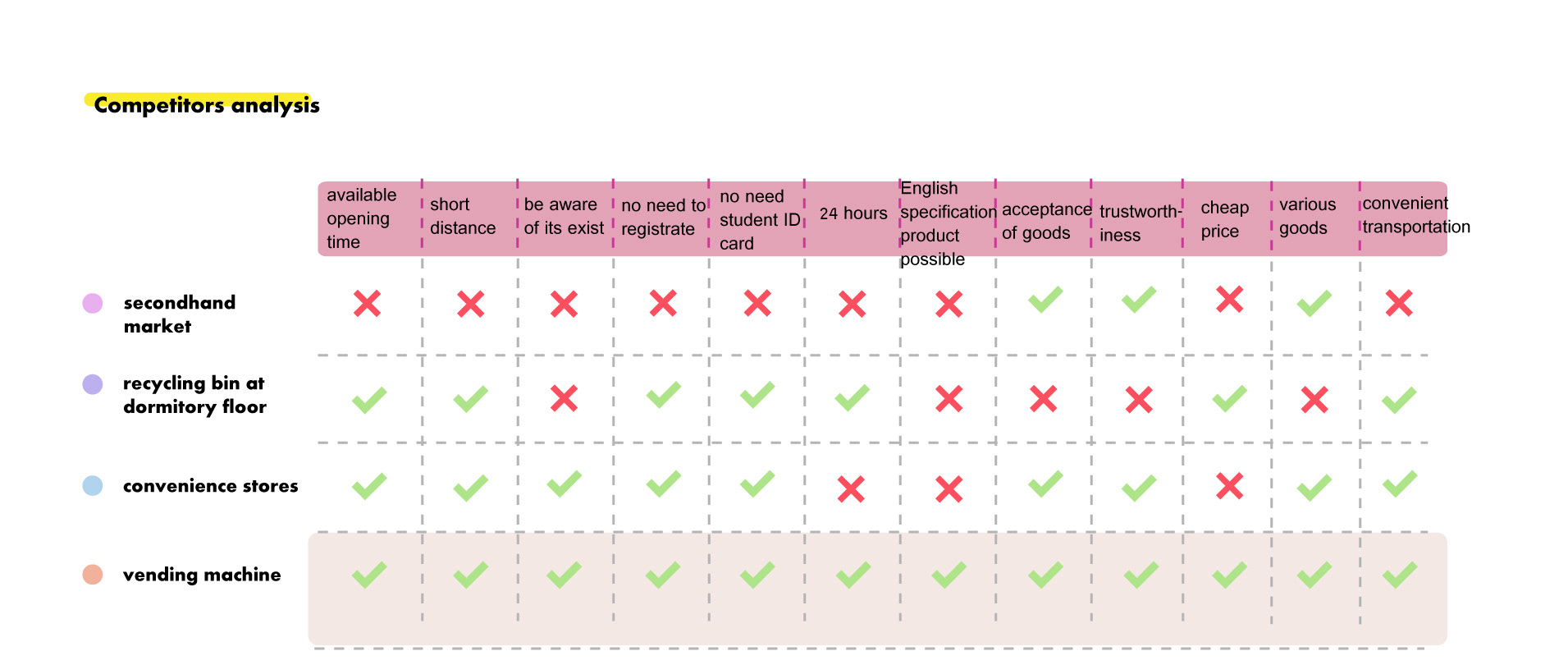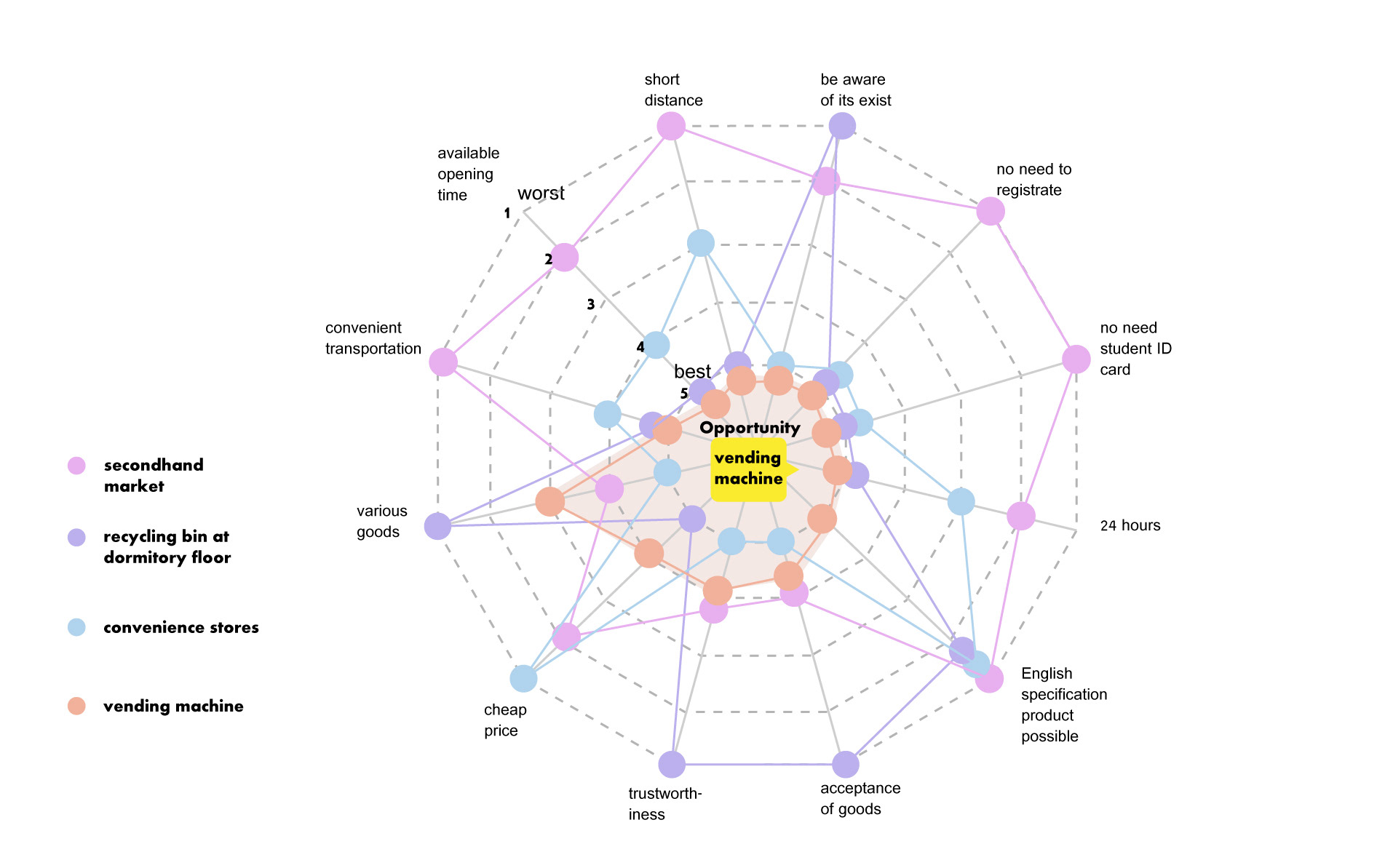 After analyzing our users and competitors, I found vending machine is the optimized solution to solve each pain points accordingly.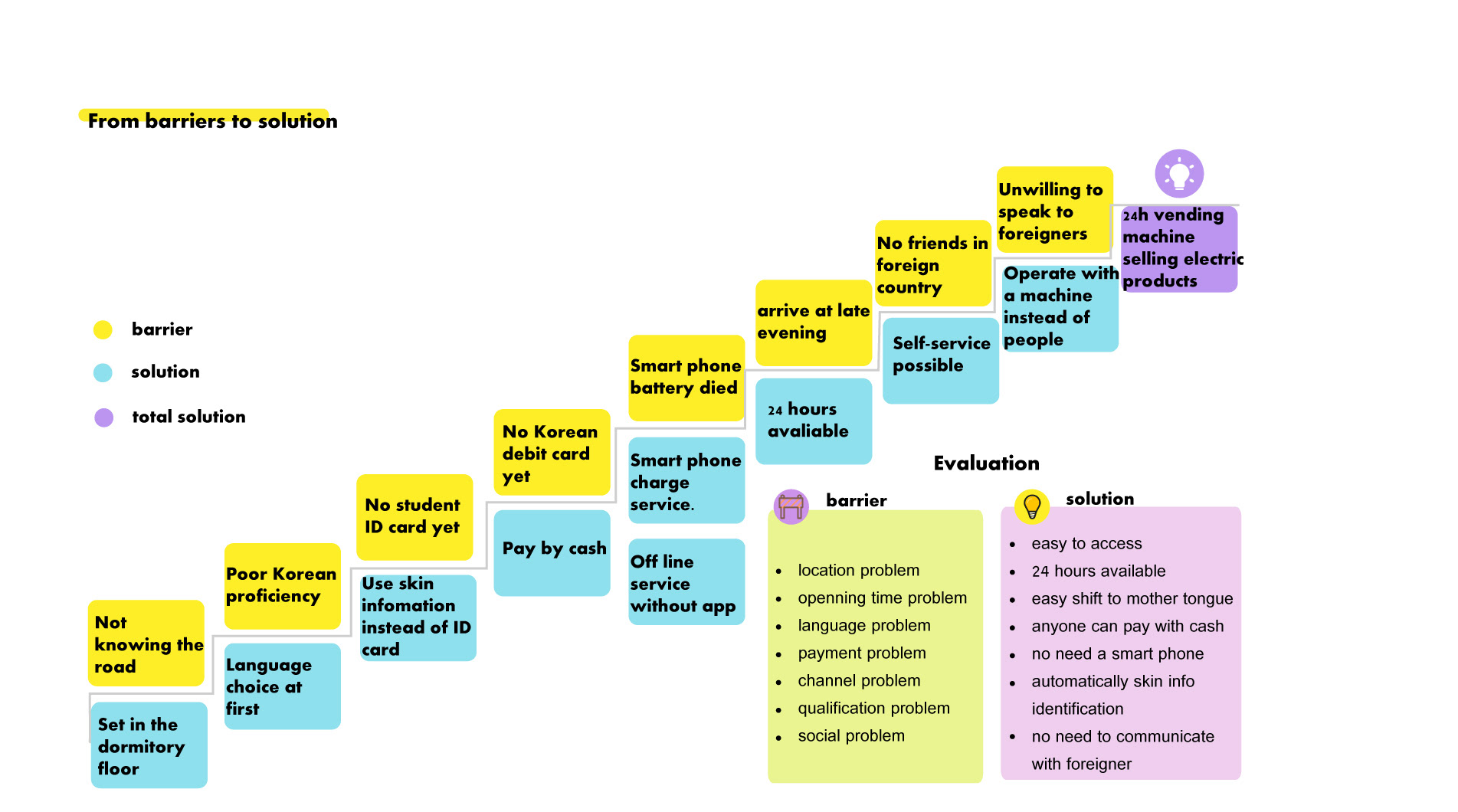 Therefore, I draw the flow chart of my proposed solution with 3 main functions: buying devices, selling devices and making a free phone call. After iteration, I simplified the flows to reach each goals.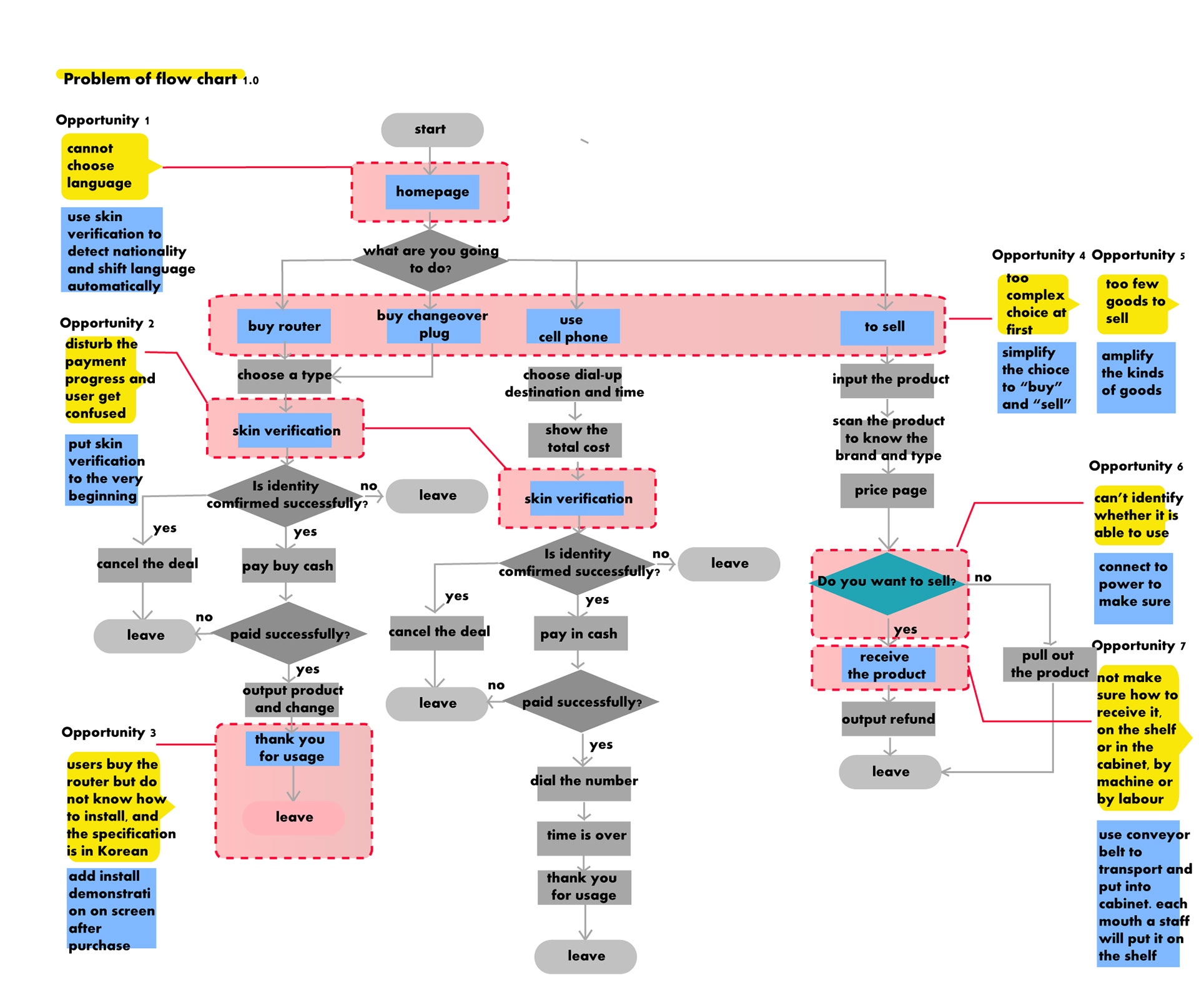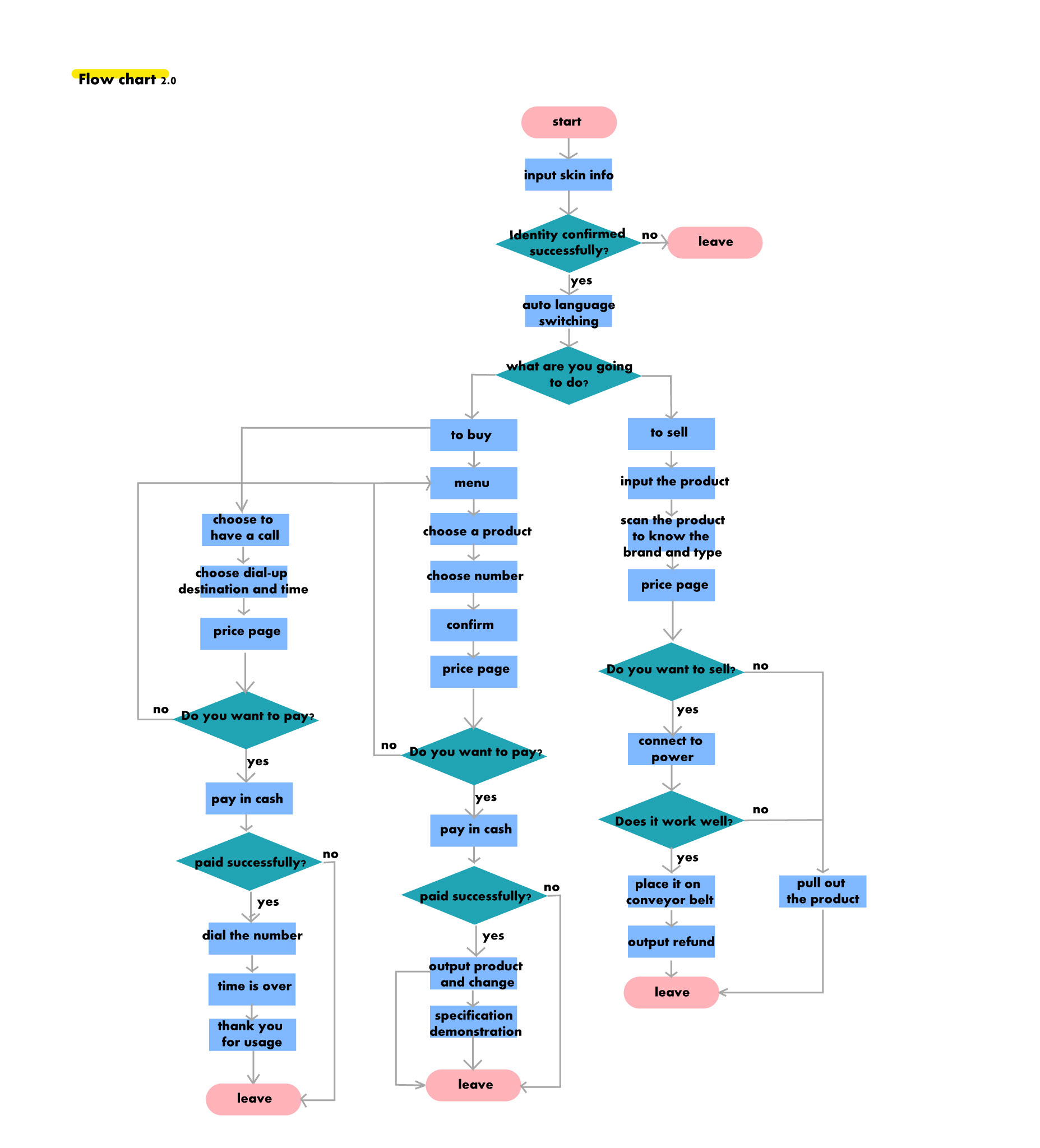 Then I tested my low-fi prototype with over 10 users chose randomly who passed by our vending machine and would like to have a try. According to the feedback, I iterated the hierarchy of the main menu and added language shift function to it.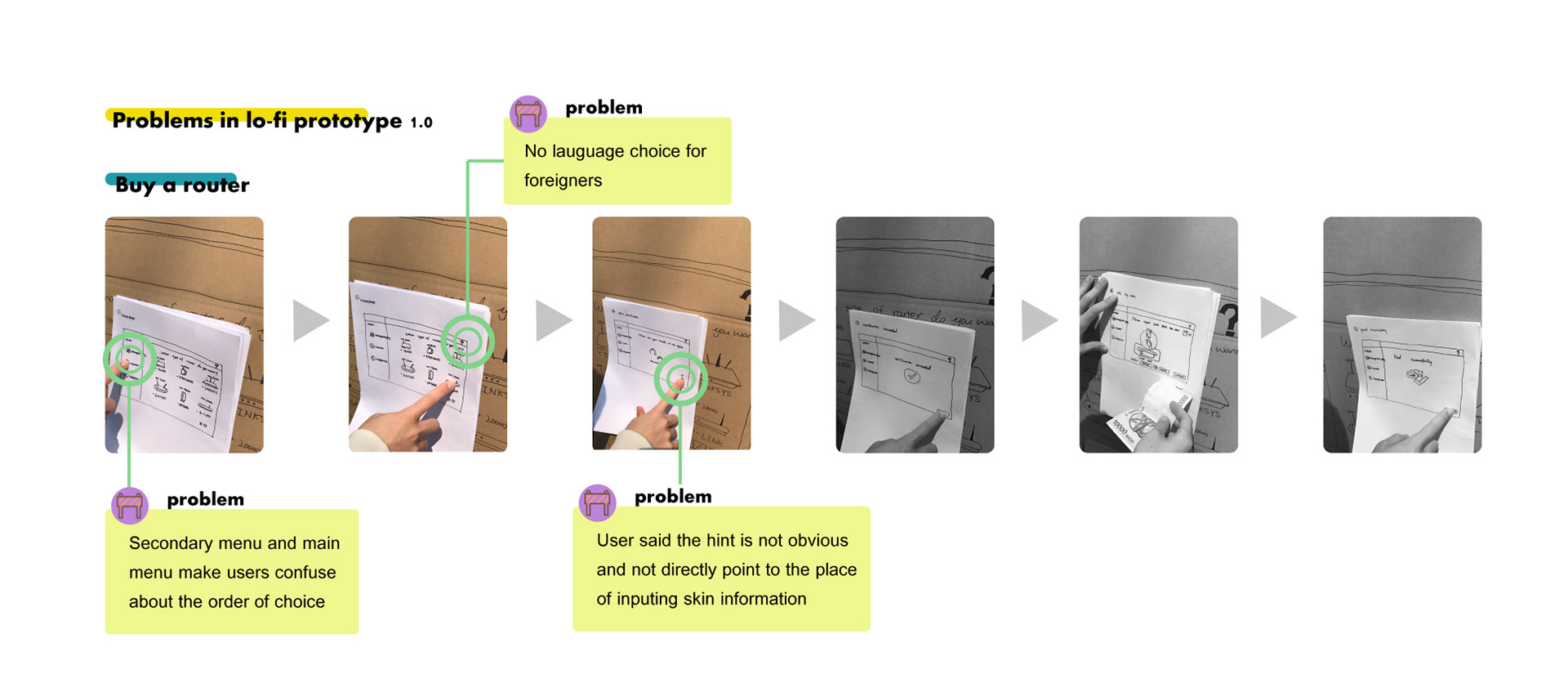 Based on the previous analysis and tests, I drew the wireframe of Exchange Planet, with 3 basic stages: log in, to buy and to sell. Users can tap the button to the next step, and the system will automatically quit with no operations in 20 seconds.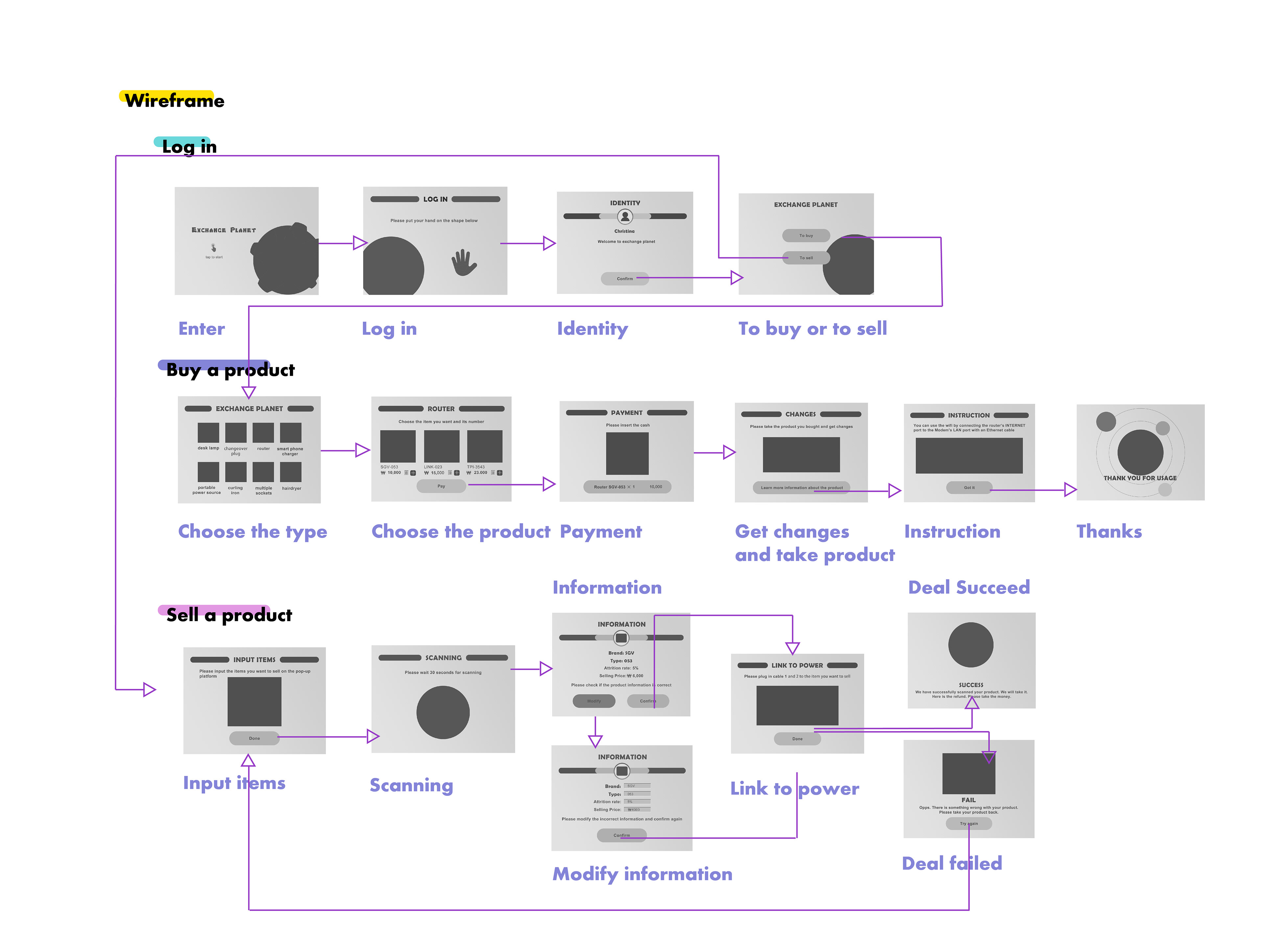 Then I visualized all the screen with gradient colors. The instruction page helps users to install an device by watching interesting animation, instead of reading arcane specifications in foreign language. The scanning page helps users to identify the brand and type of an used device, helping them assess the value and refund price. Users can modify the incorrect information in modification page. All the refund will be paid by cash or e-money minutes after the deal.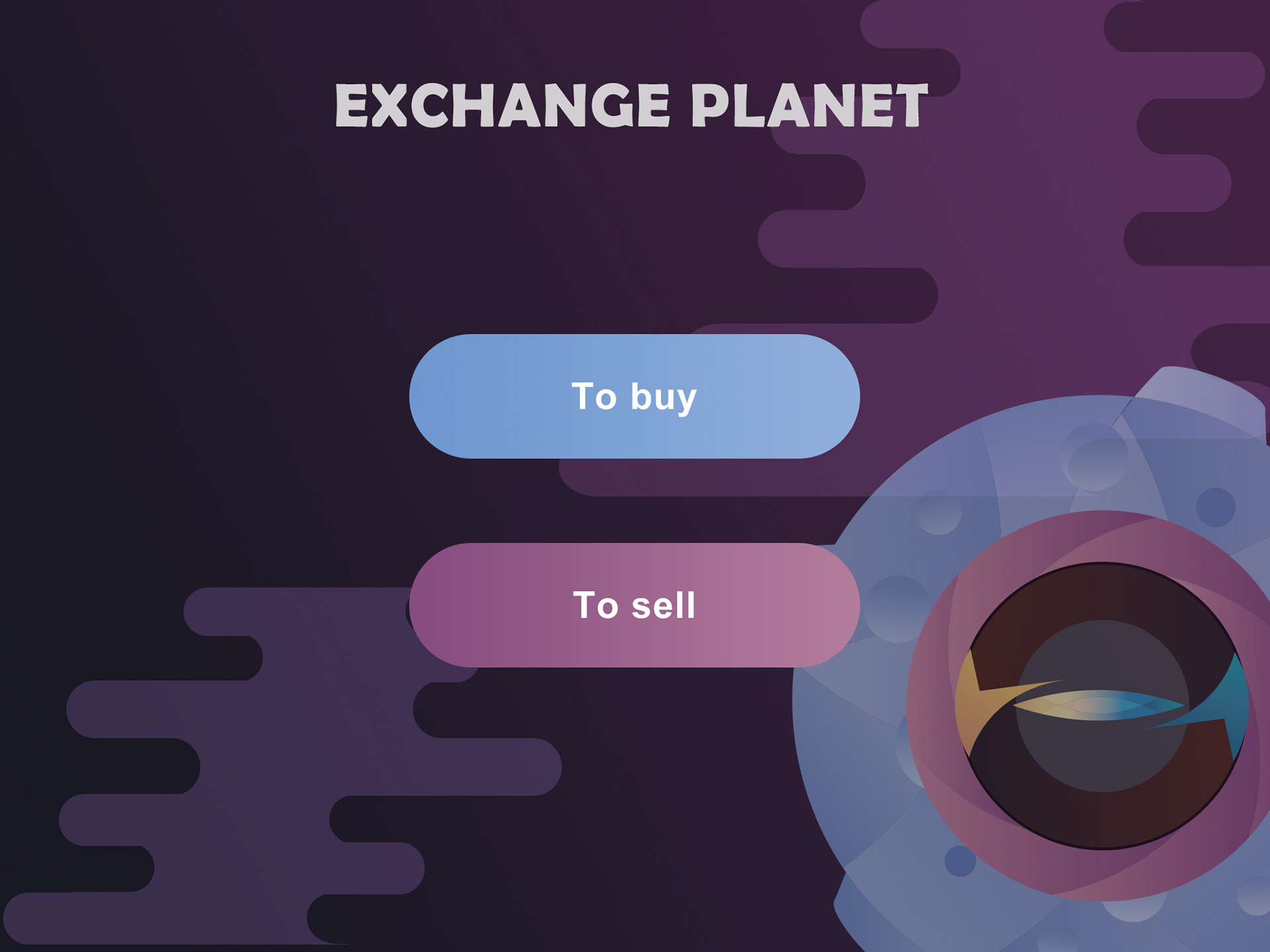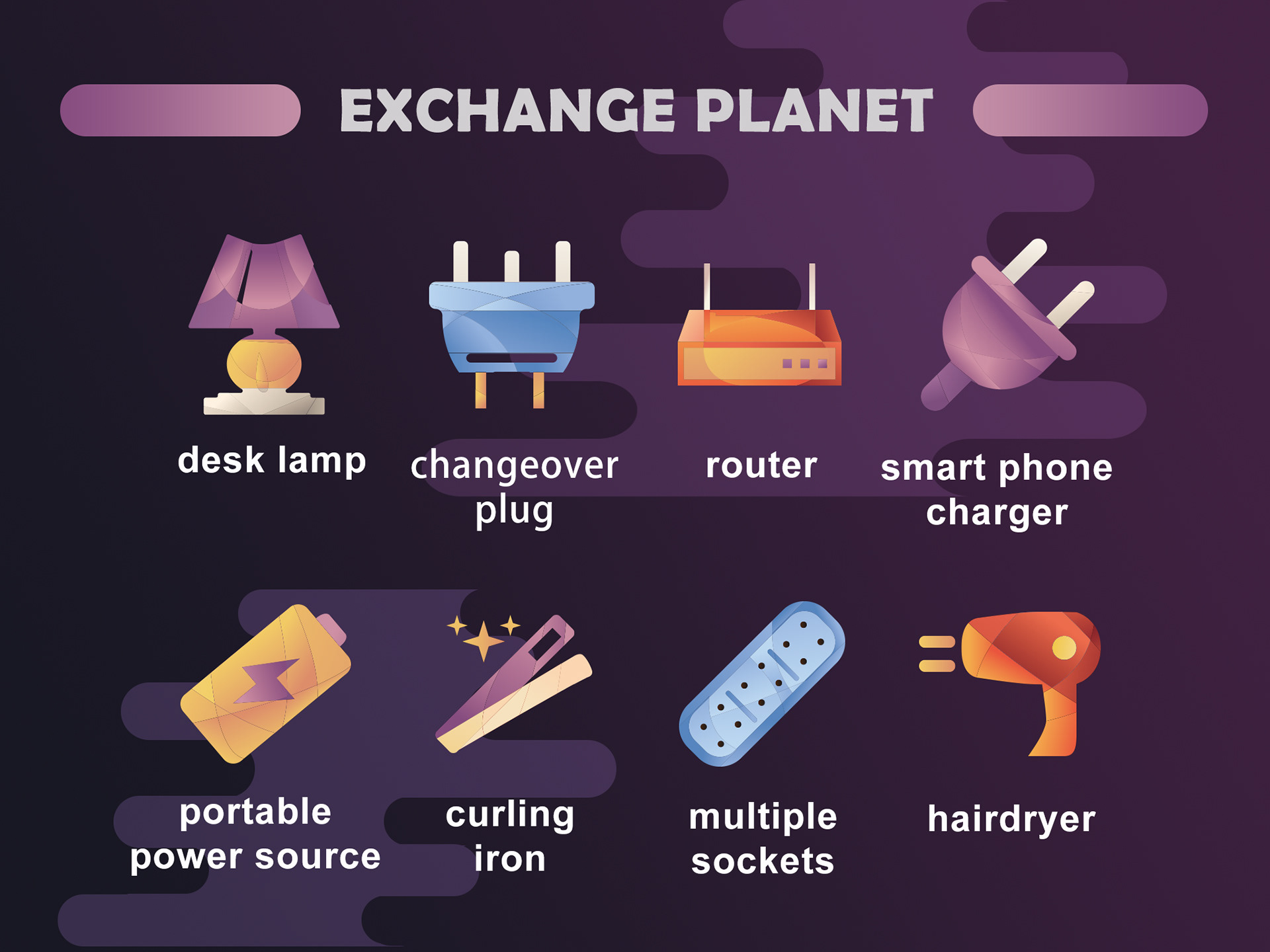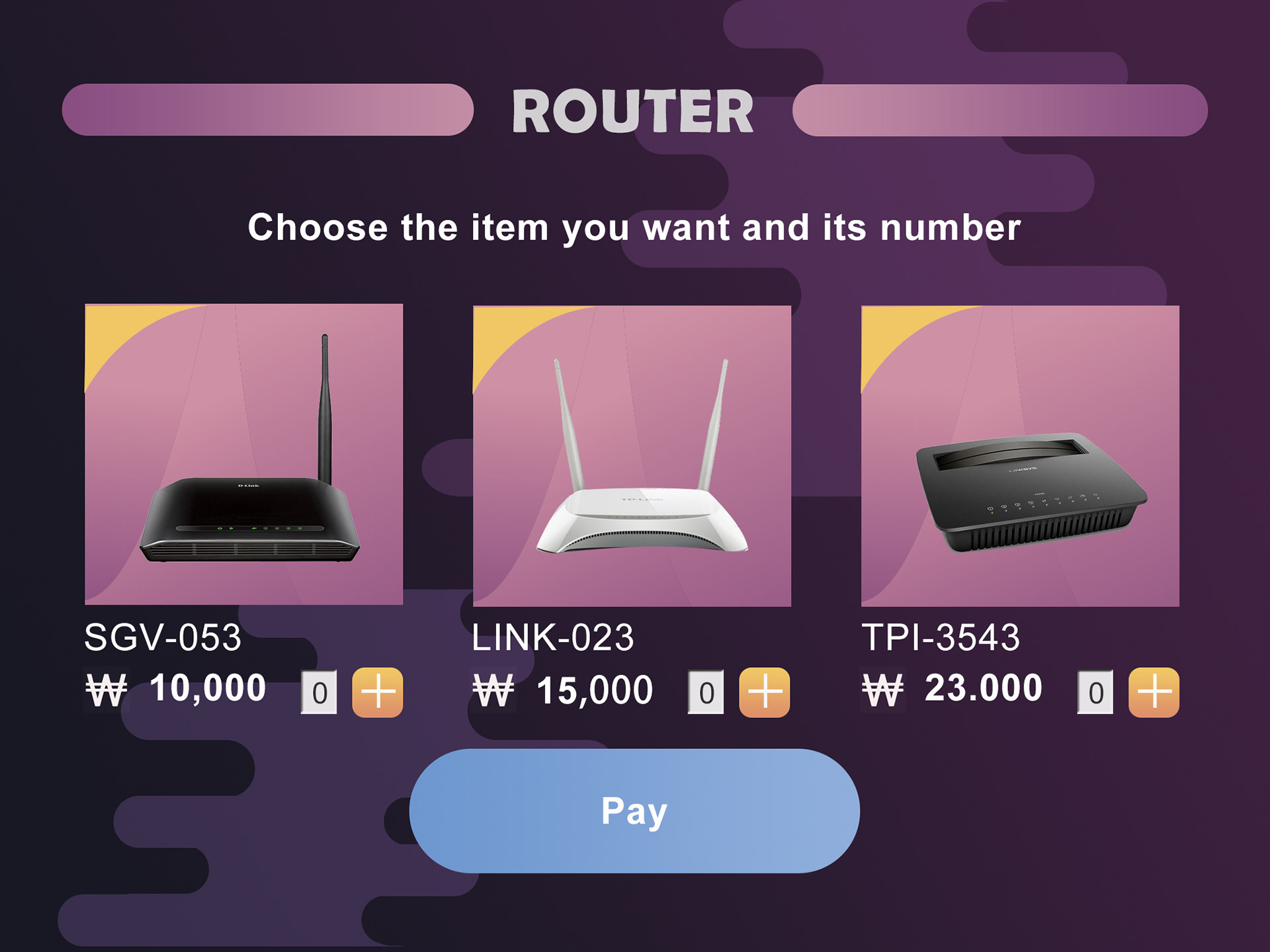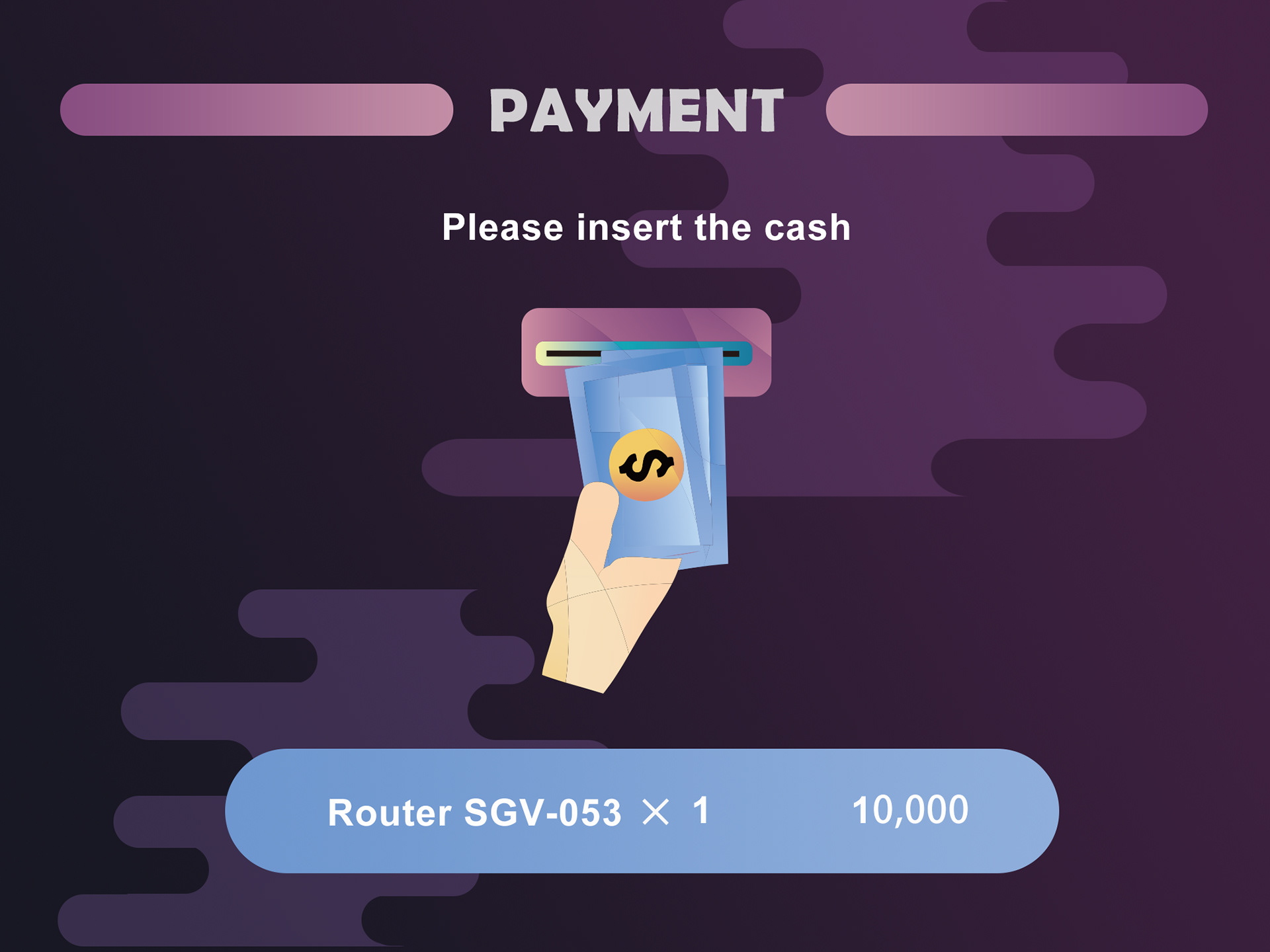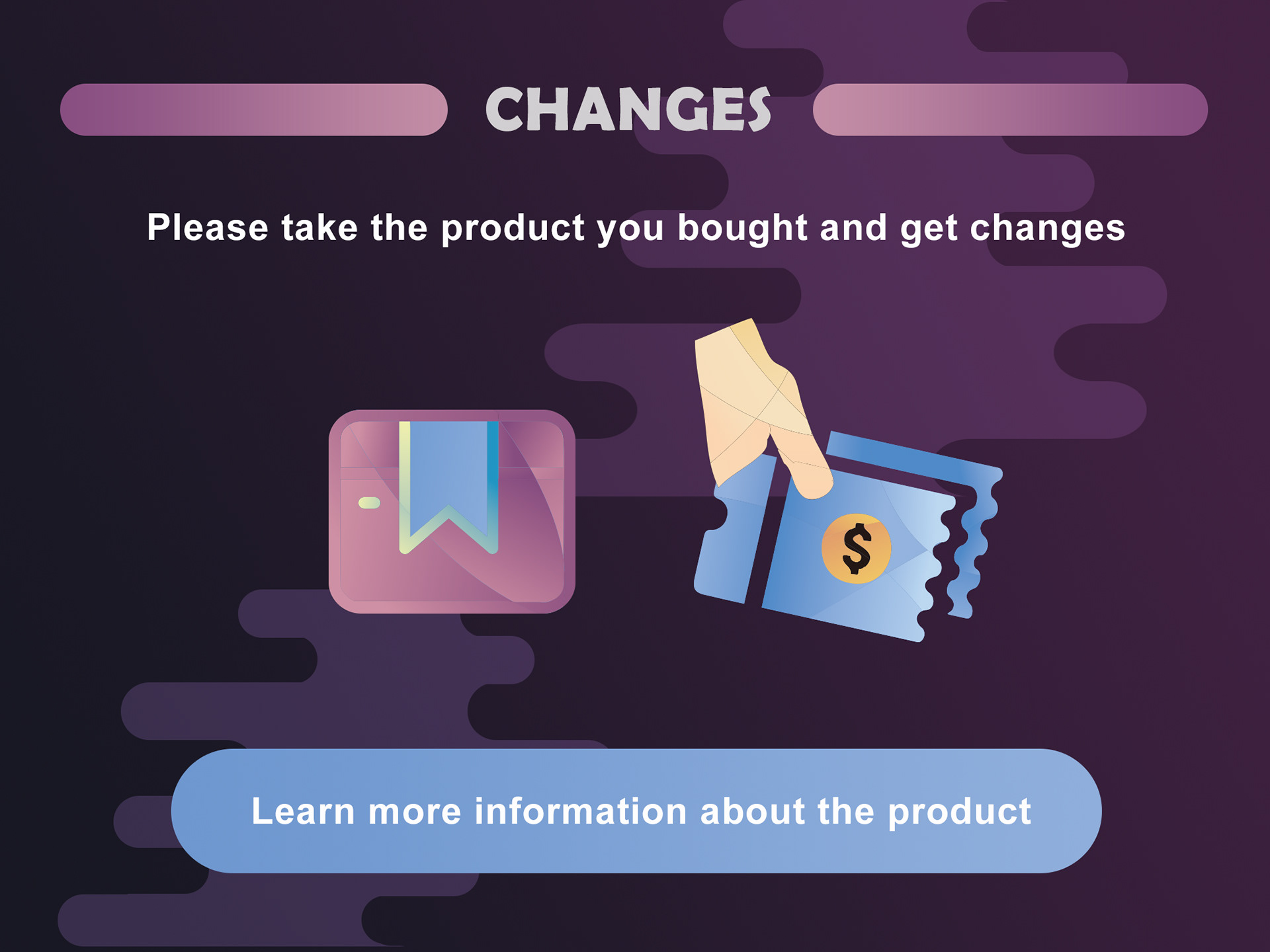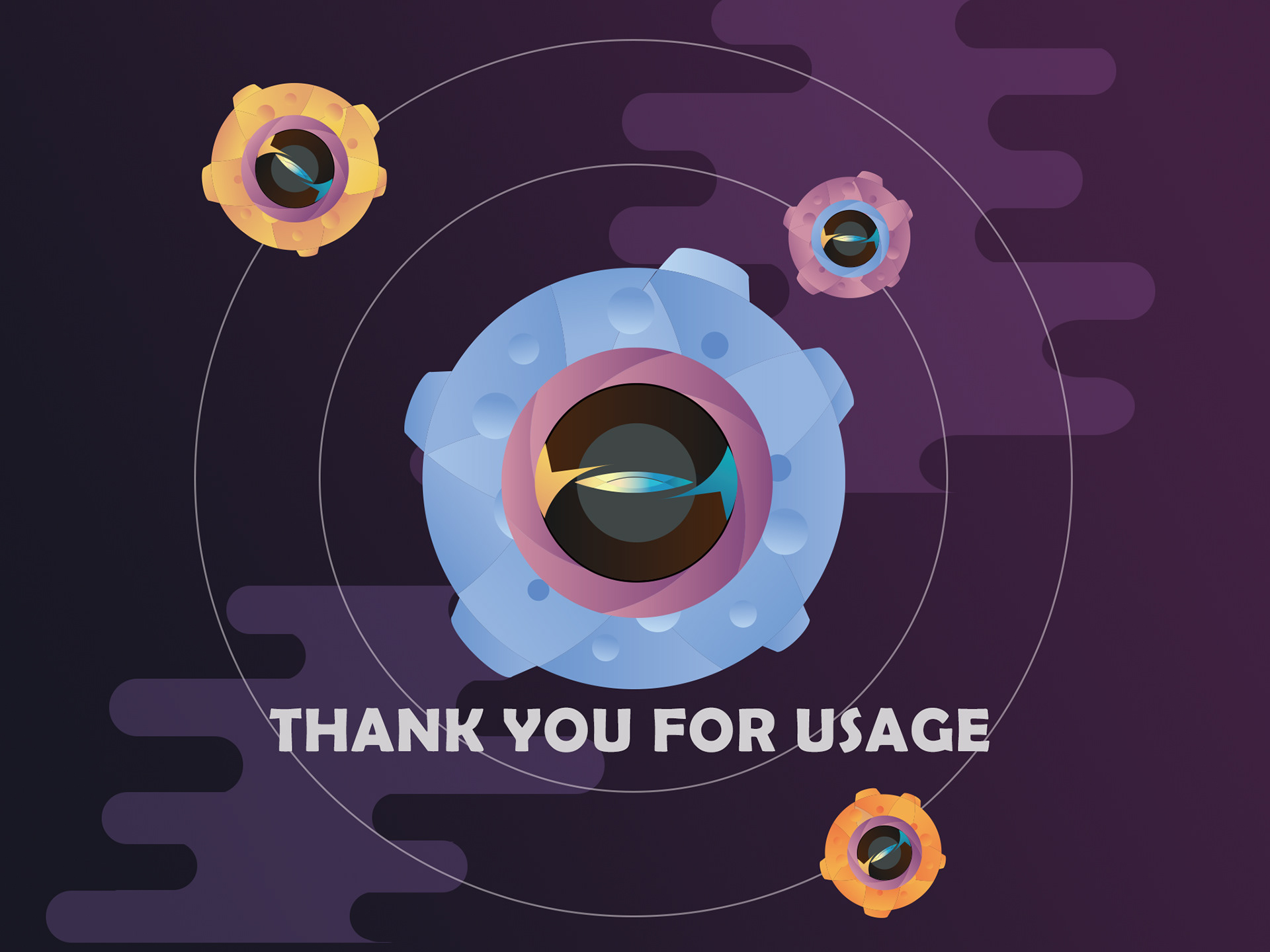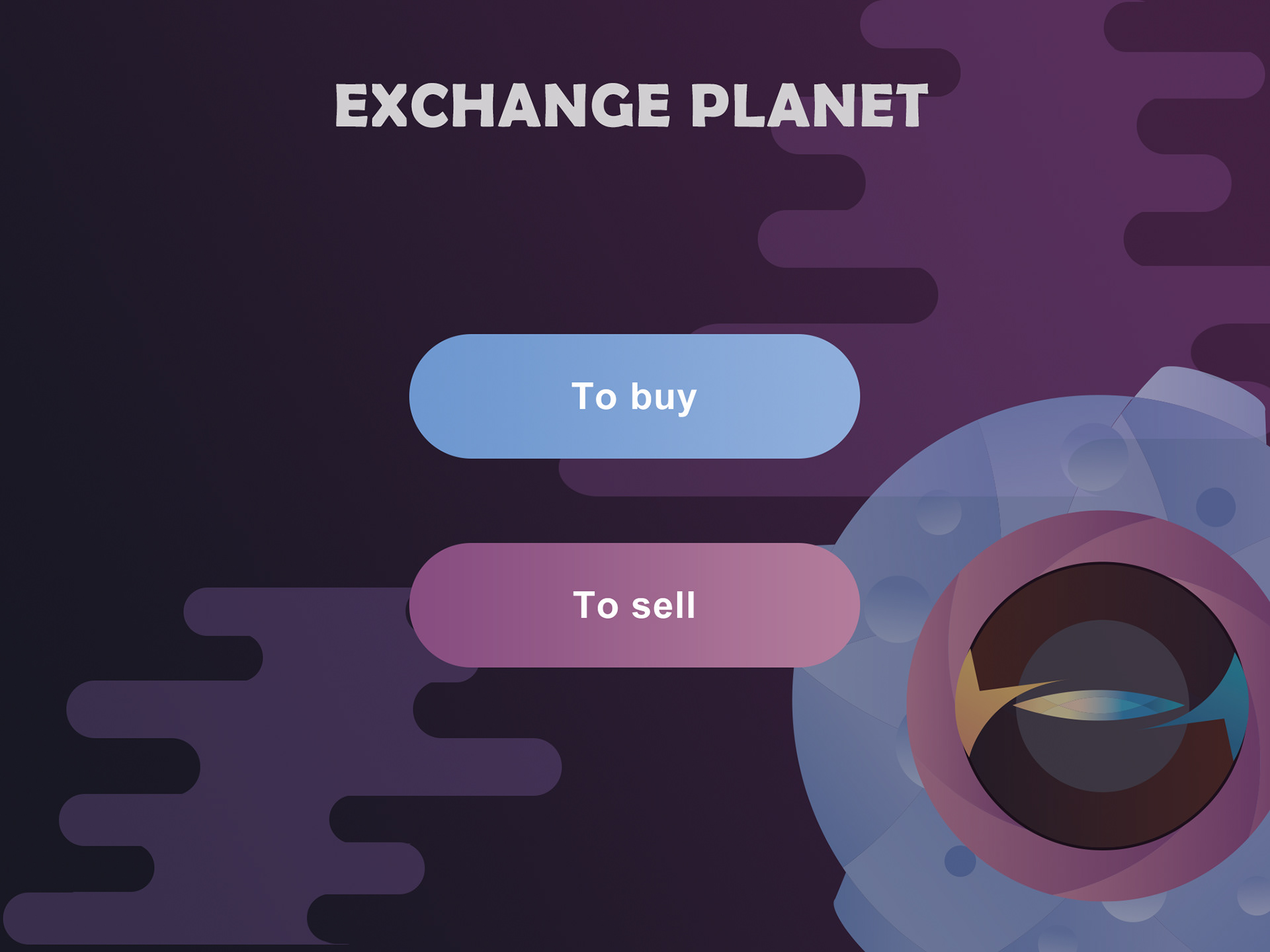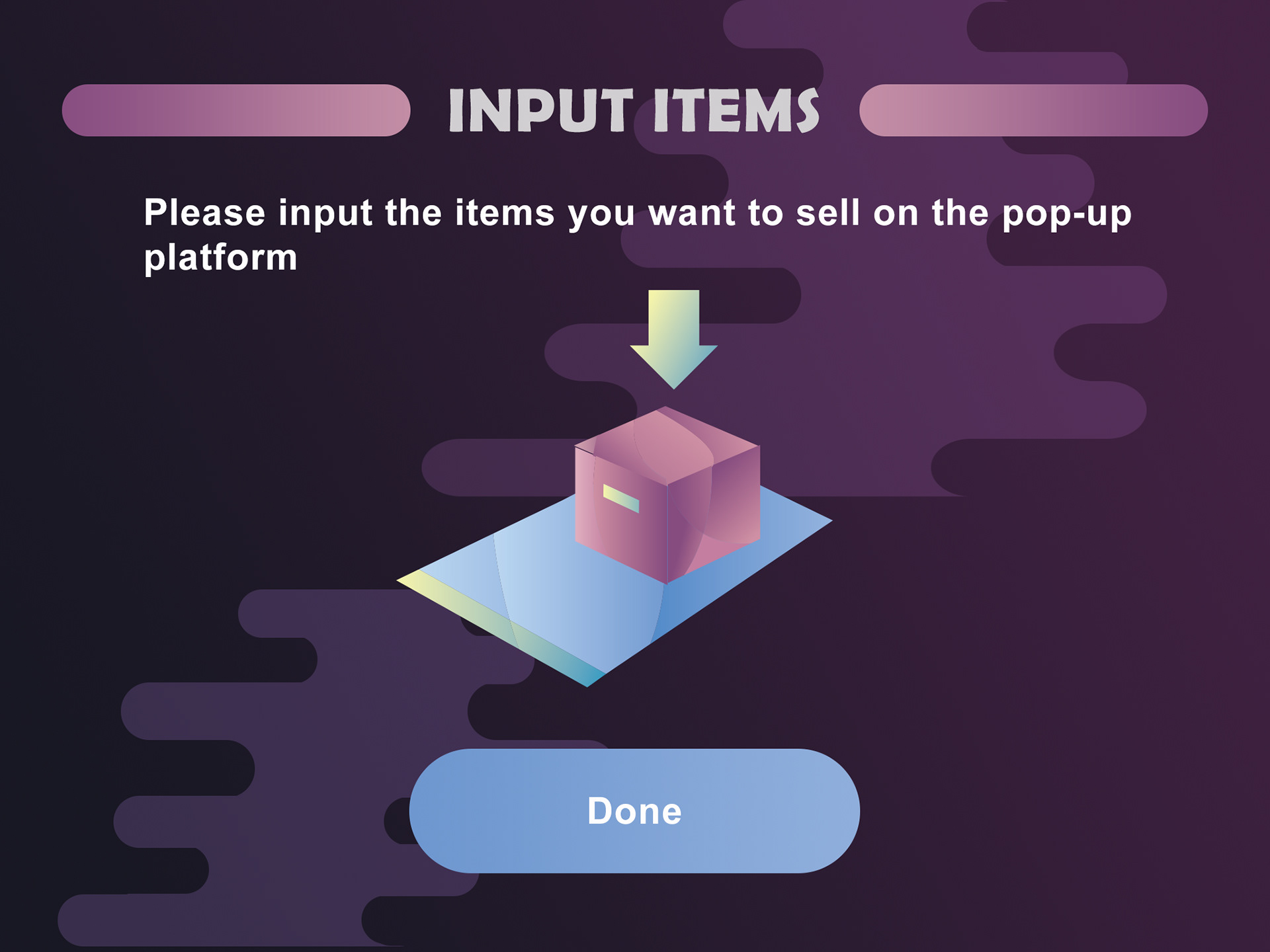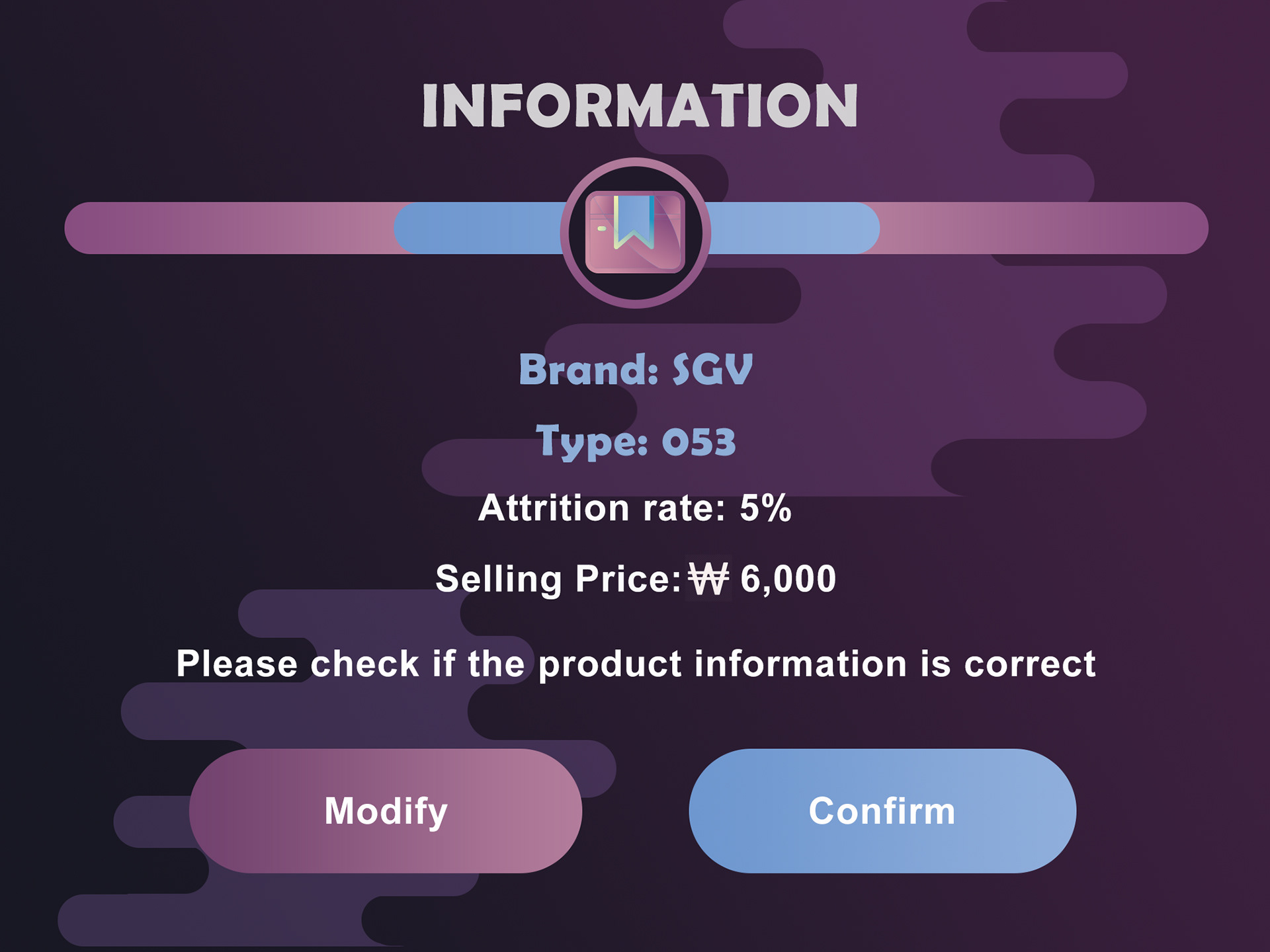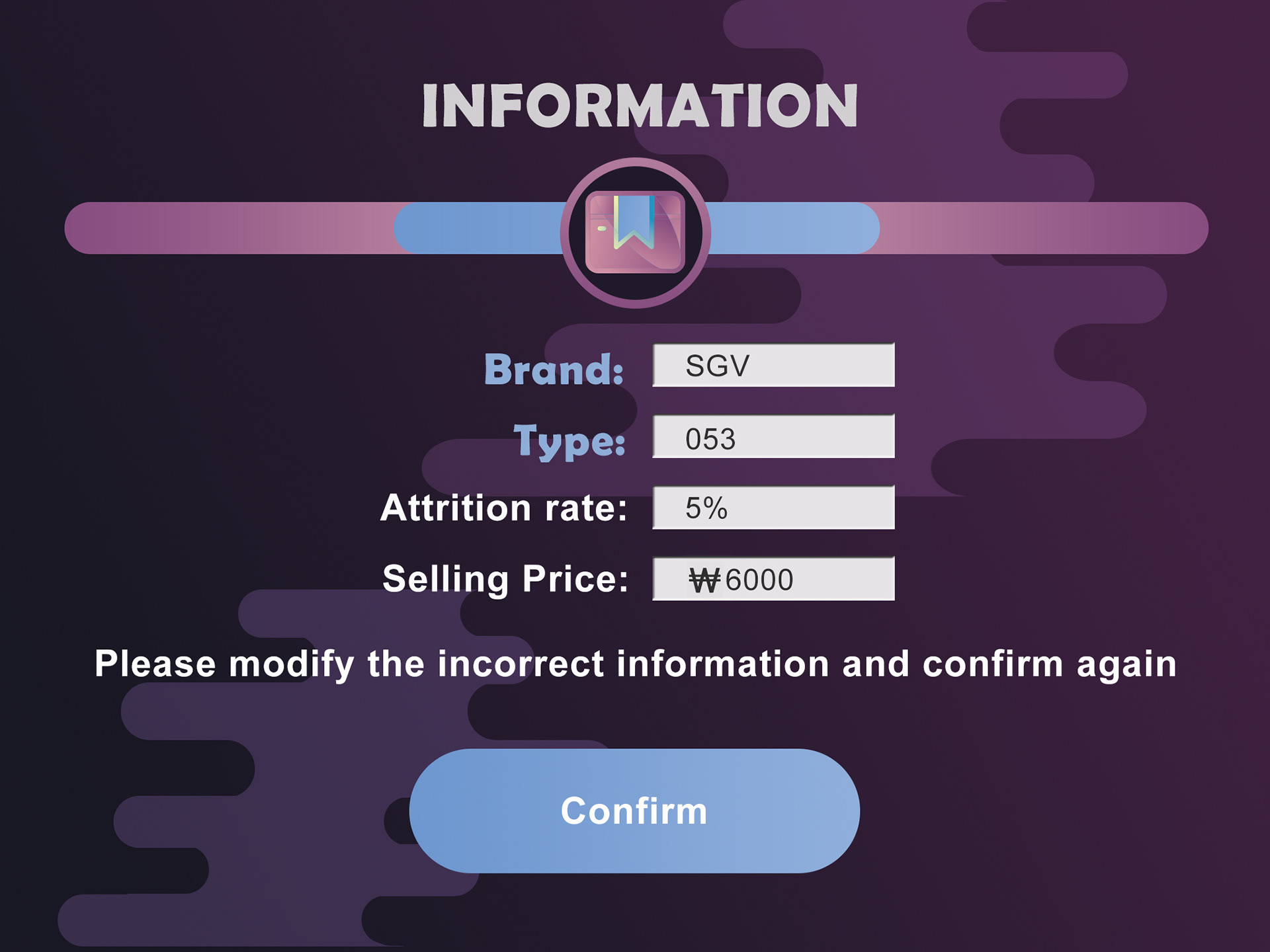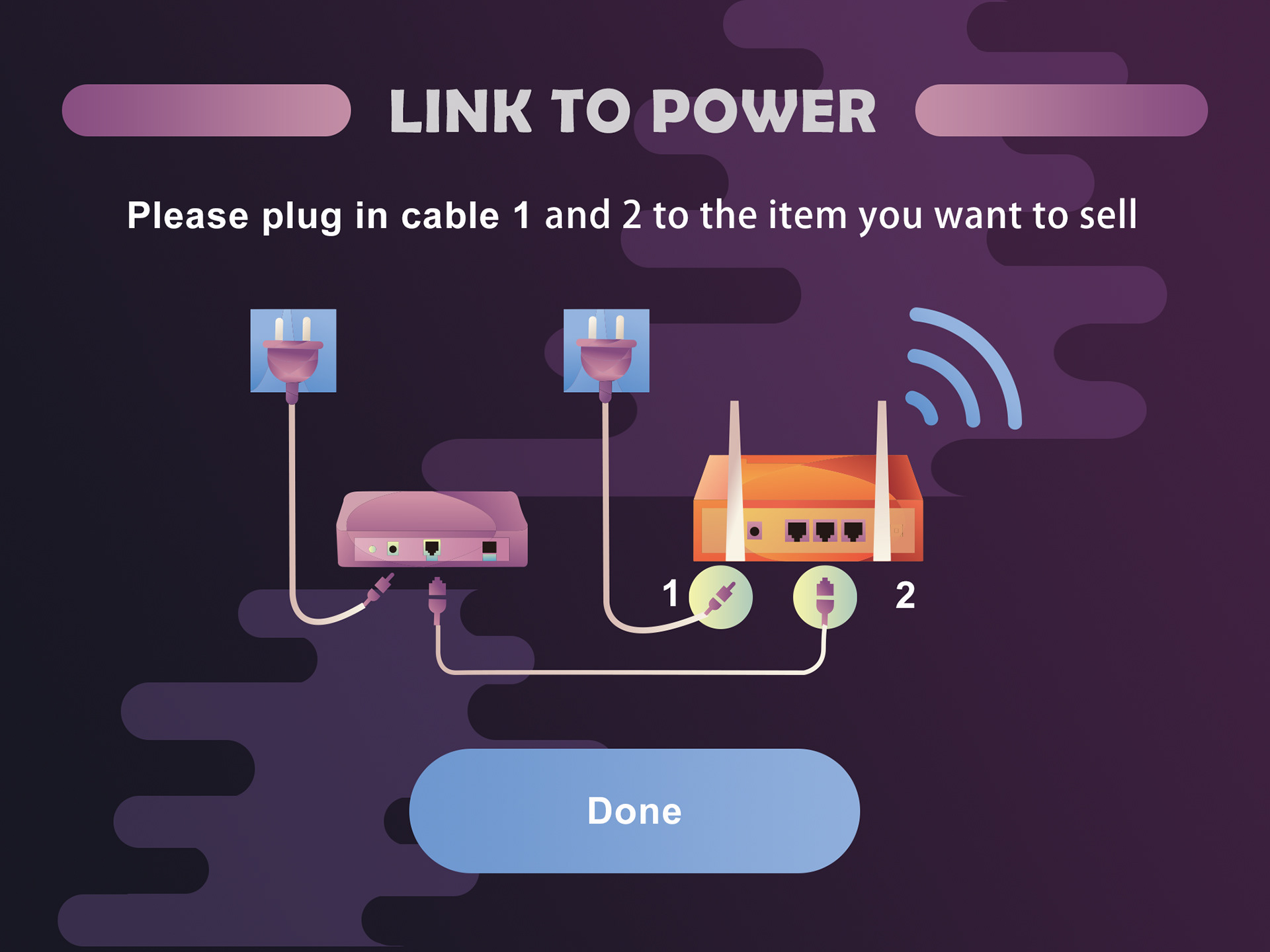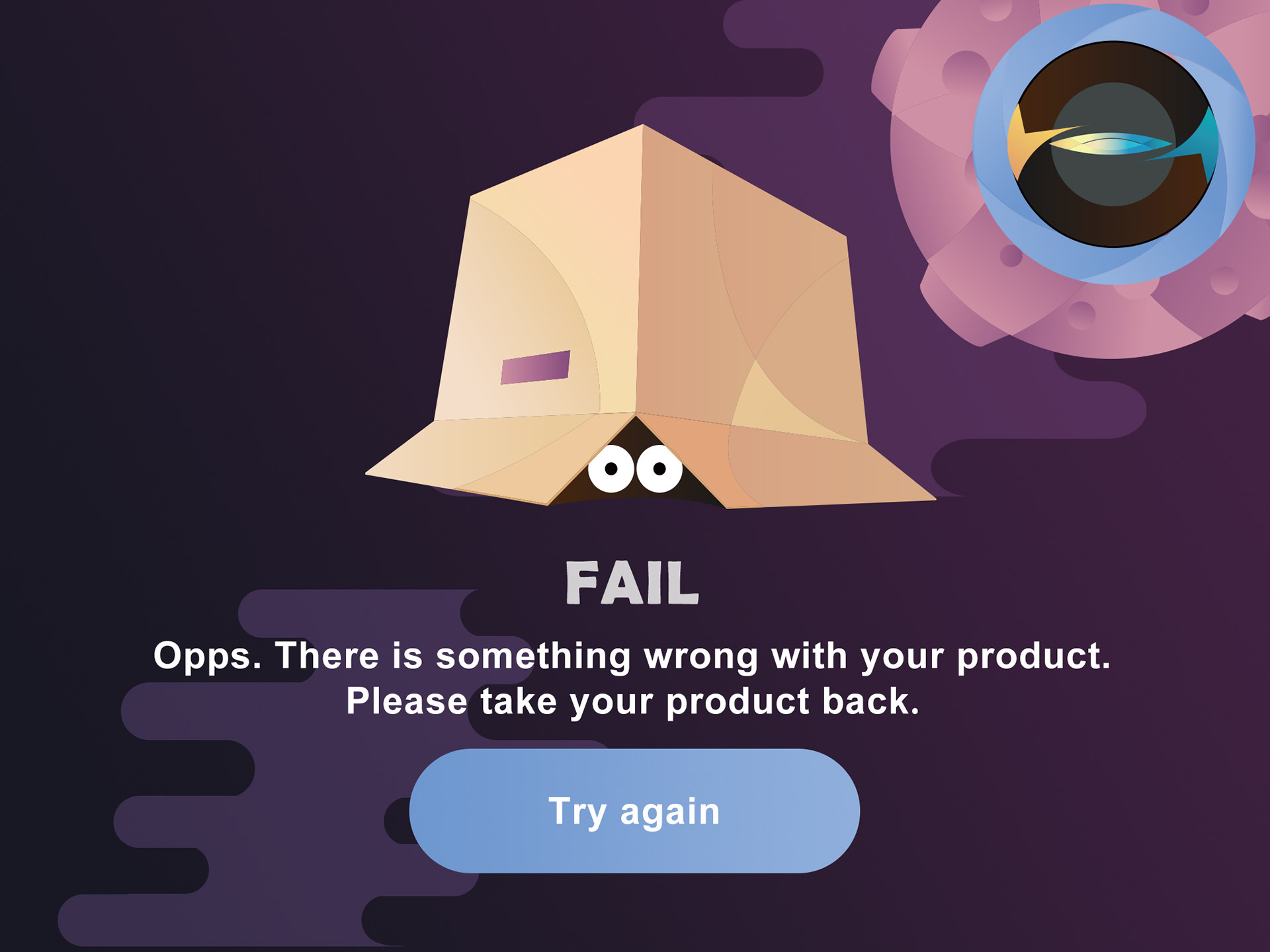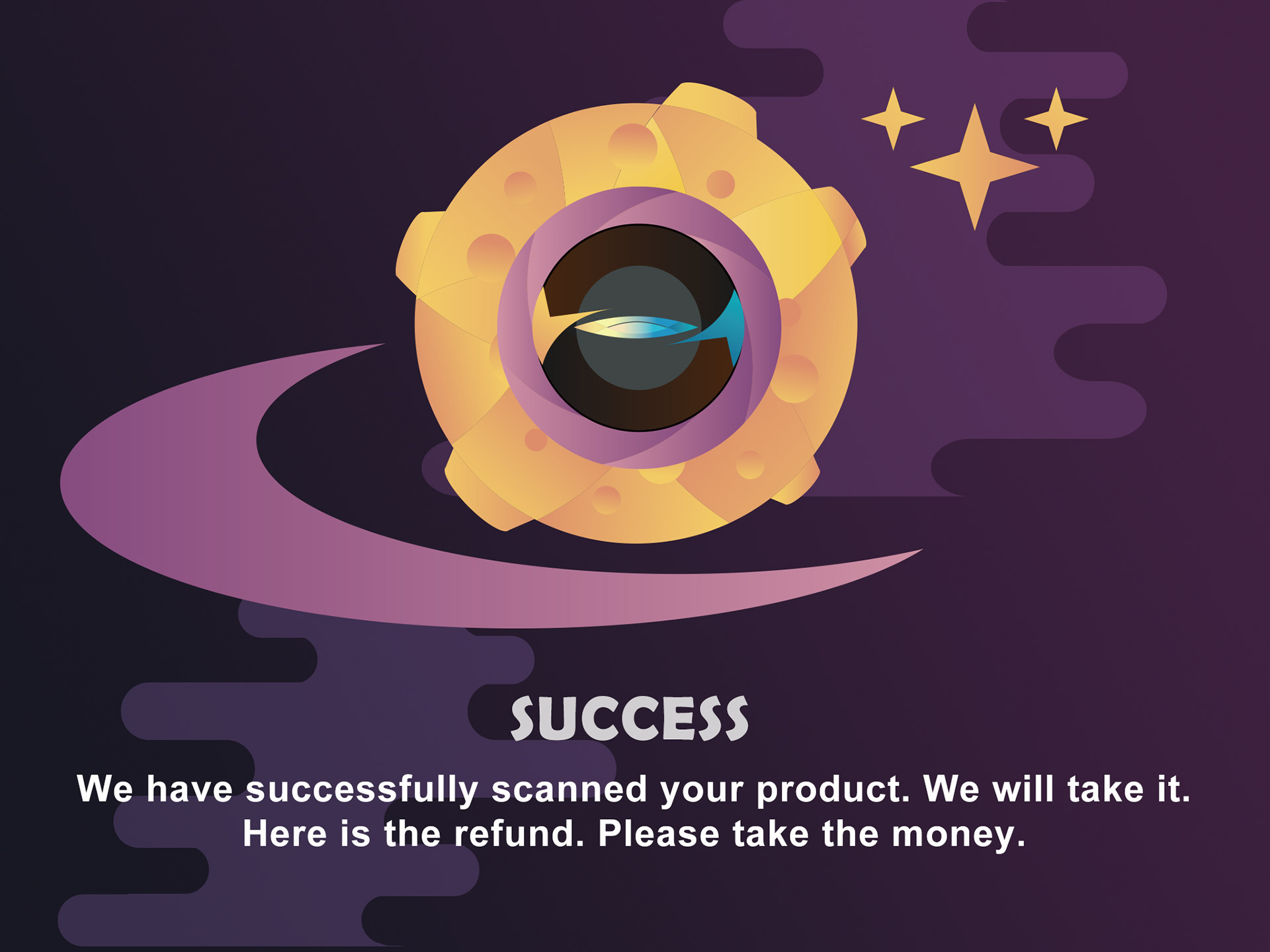 When it comes to the hardware, I used boxes to do the mock-up, and put the model outside the dormitory where students will pass by every day. I did not instruct them before testing, and observing their interaction procedure to see what is the smoothest procedure in their subconscious mind. Then I iterated the location of some functions according to users' feedbacks.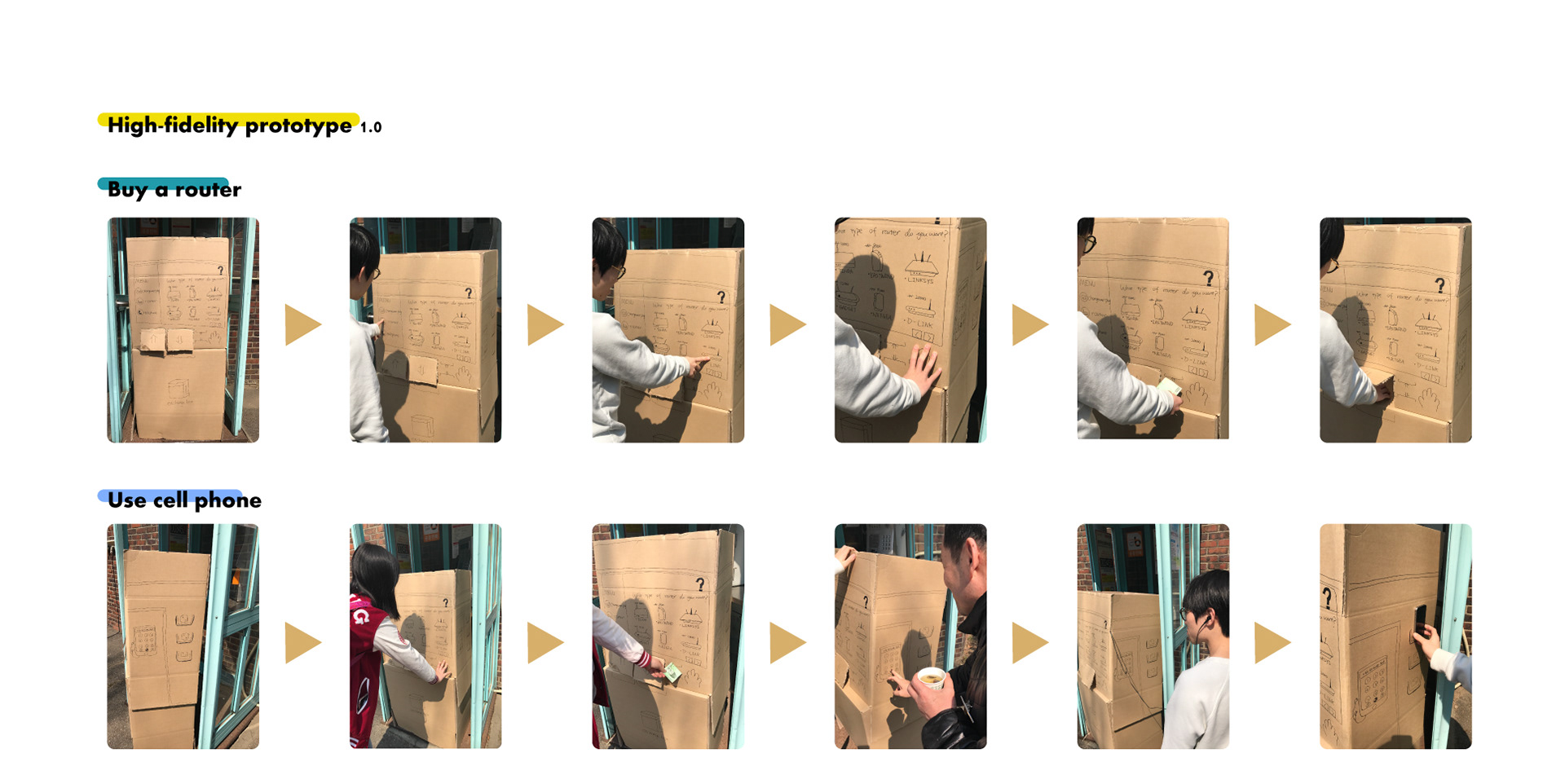 I made a 1:1 model of the vending machine and recruit users for final testing.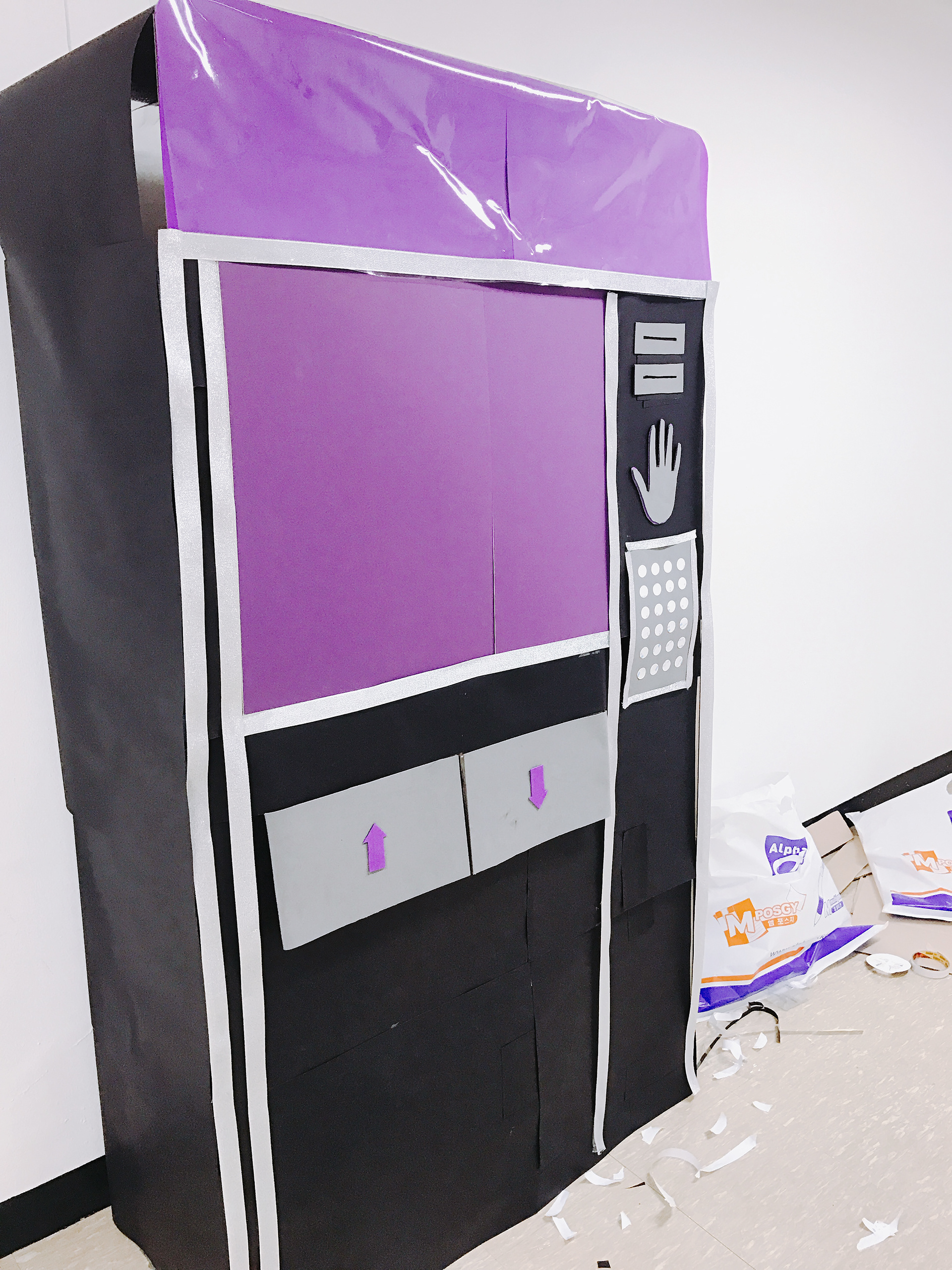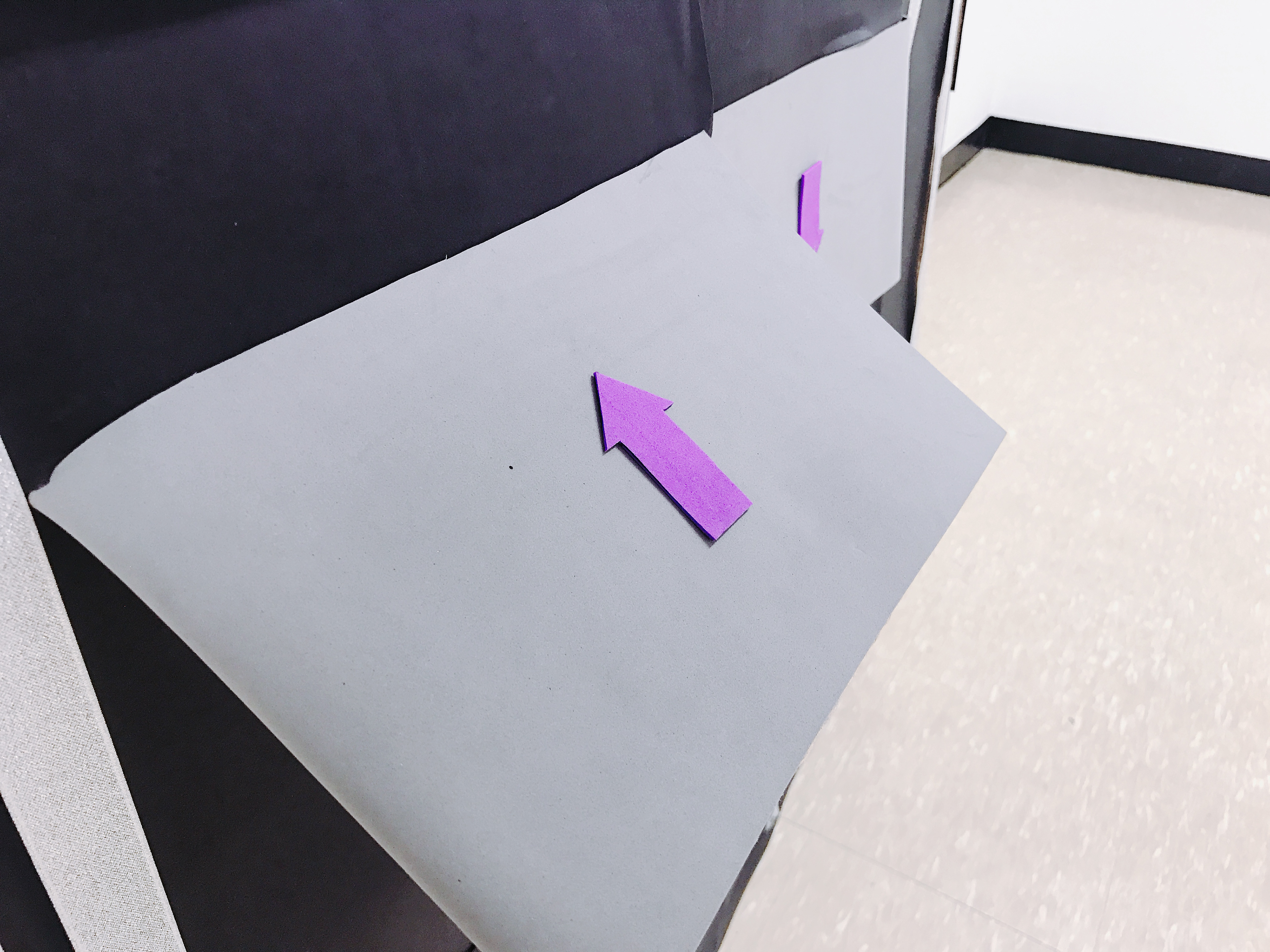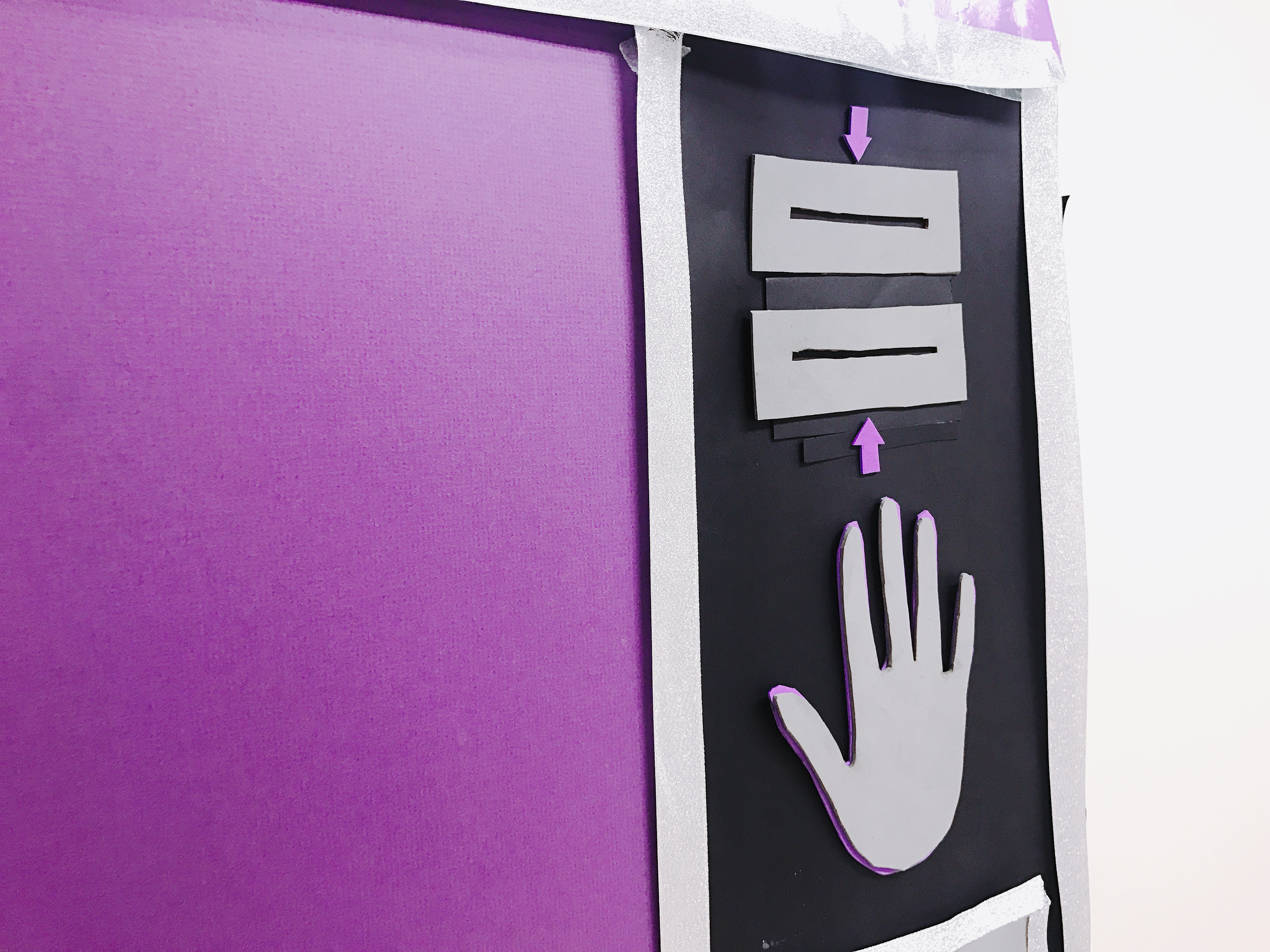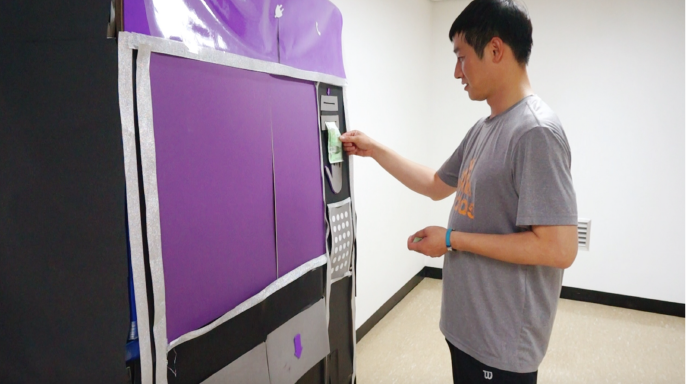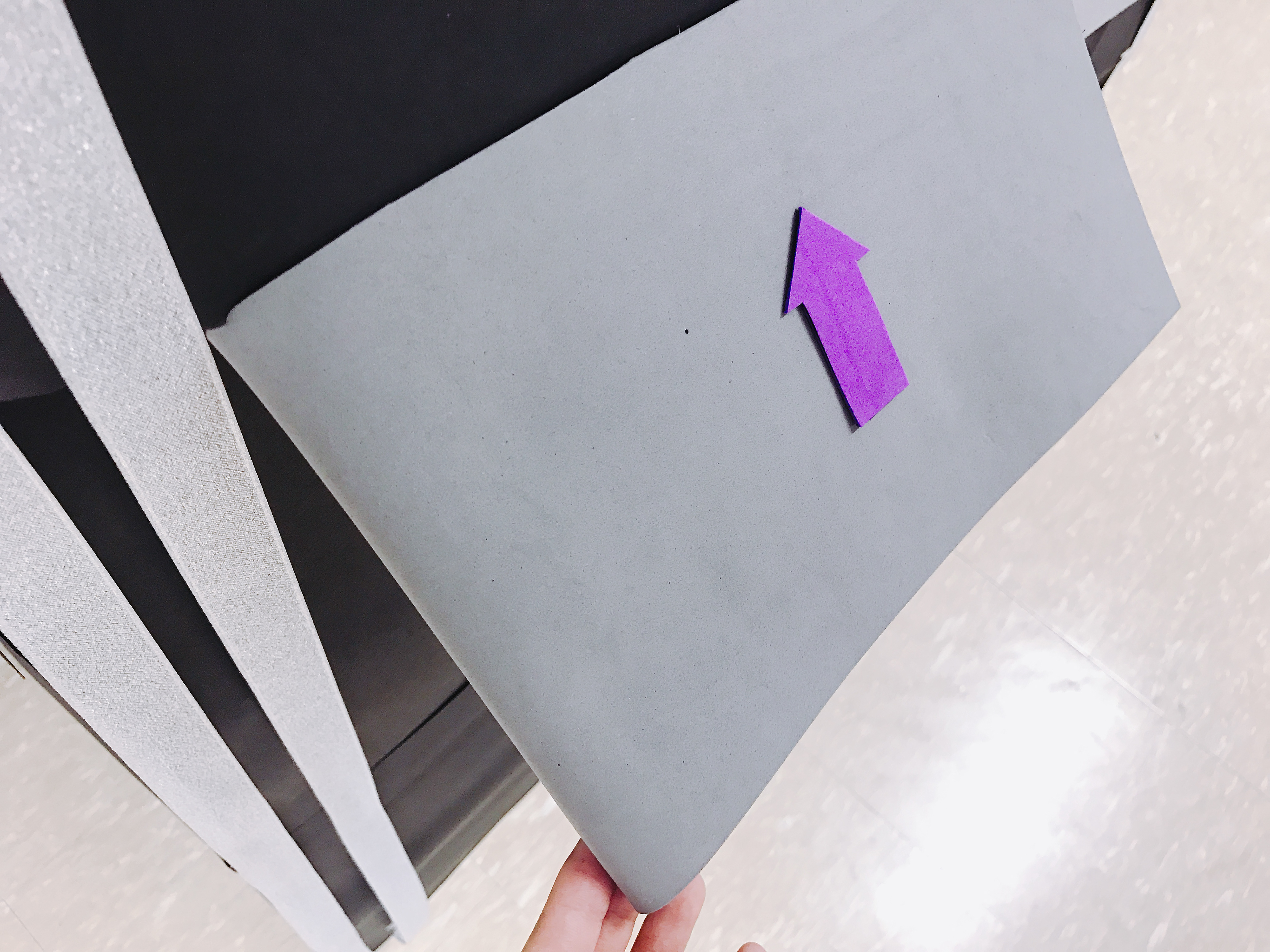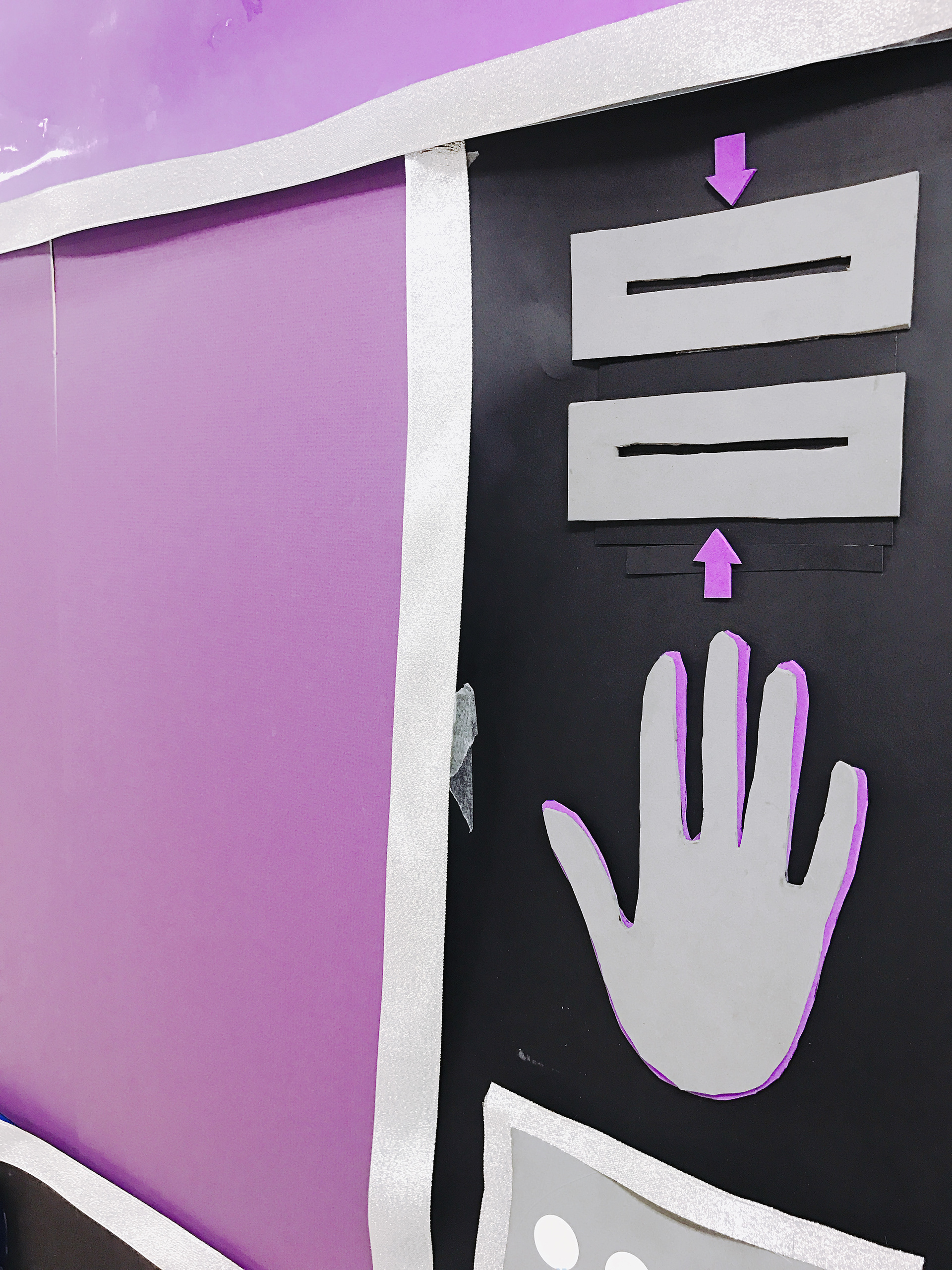 The execution: modeling and video shooting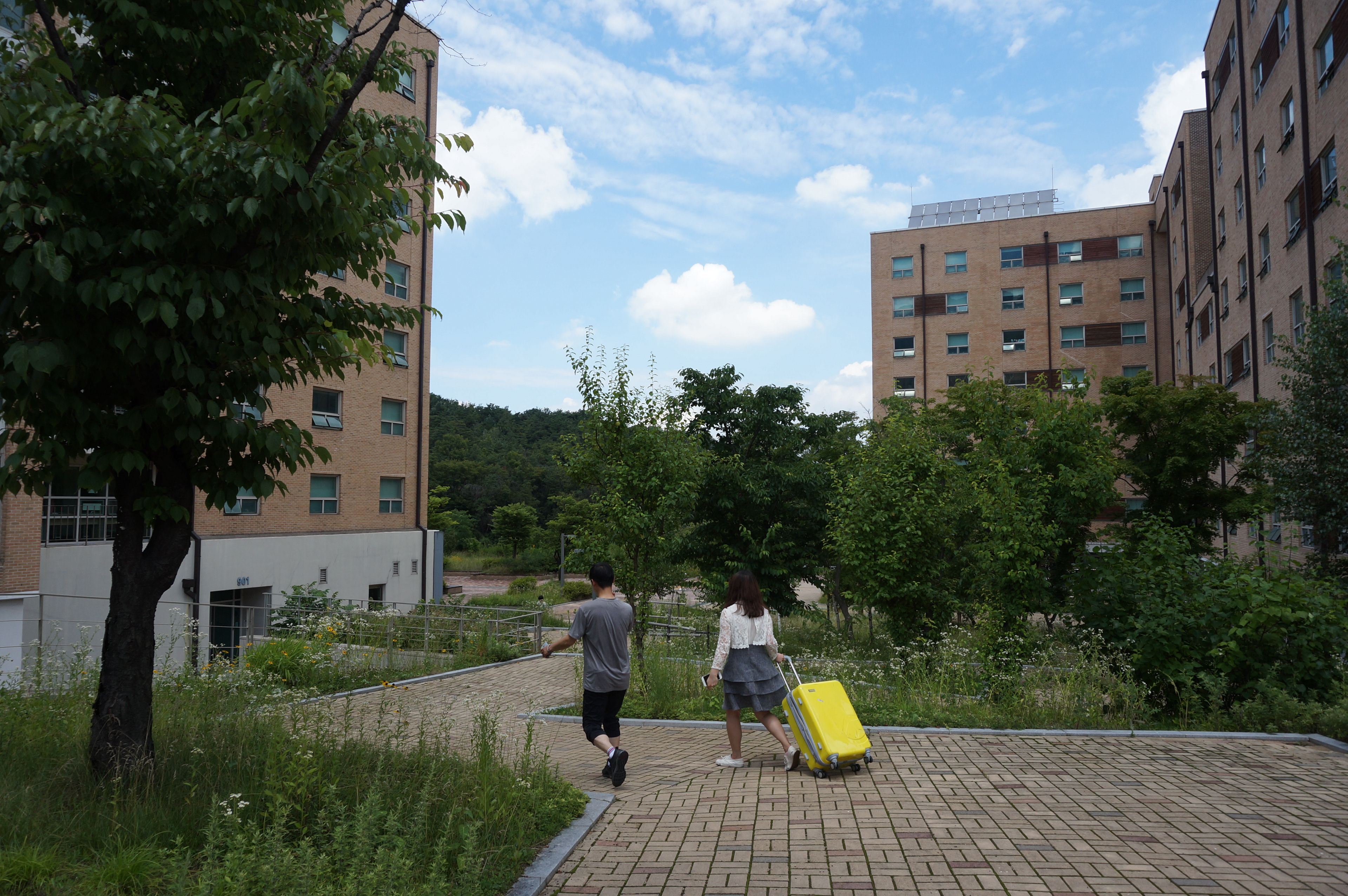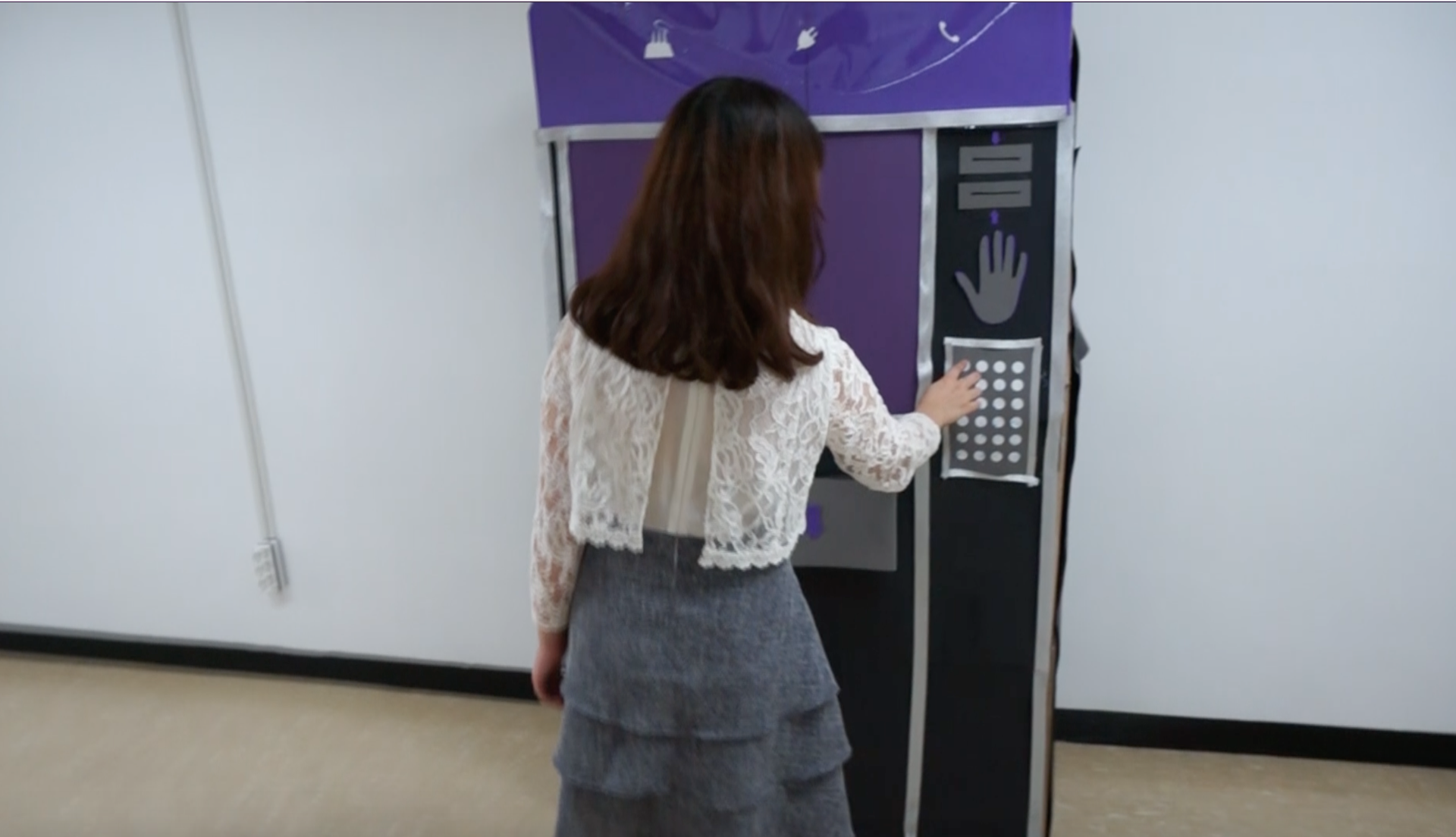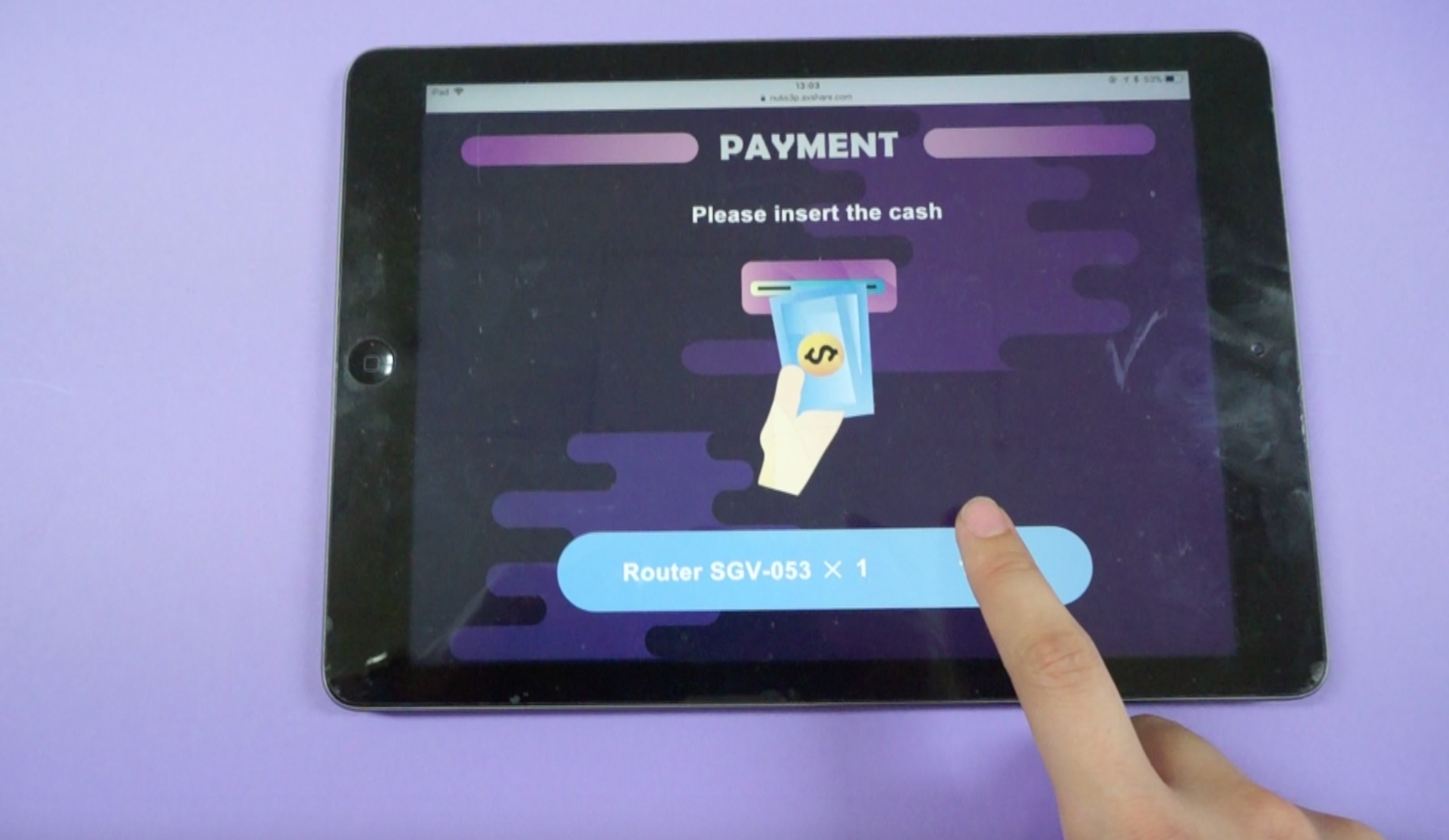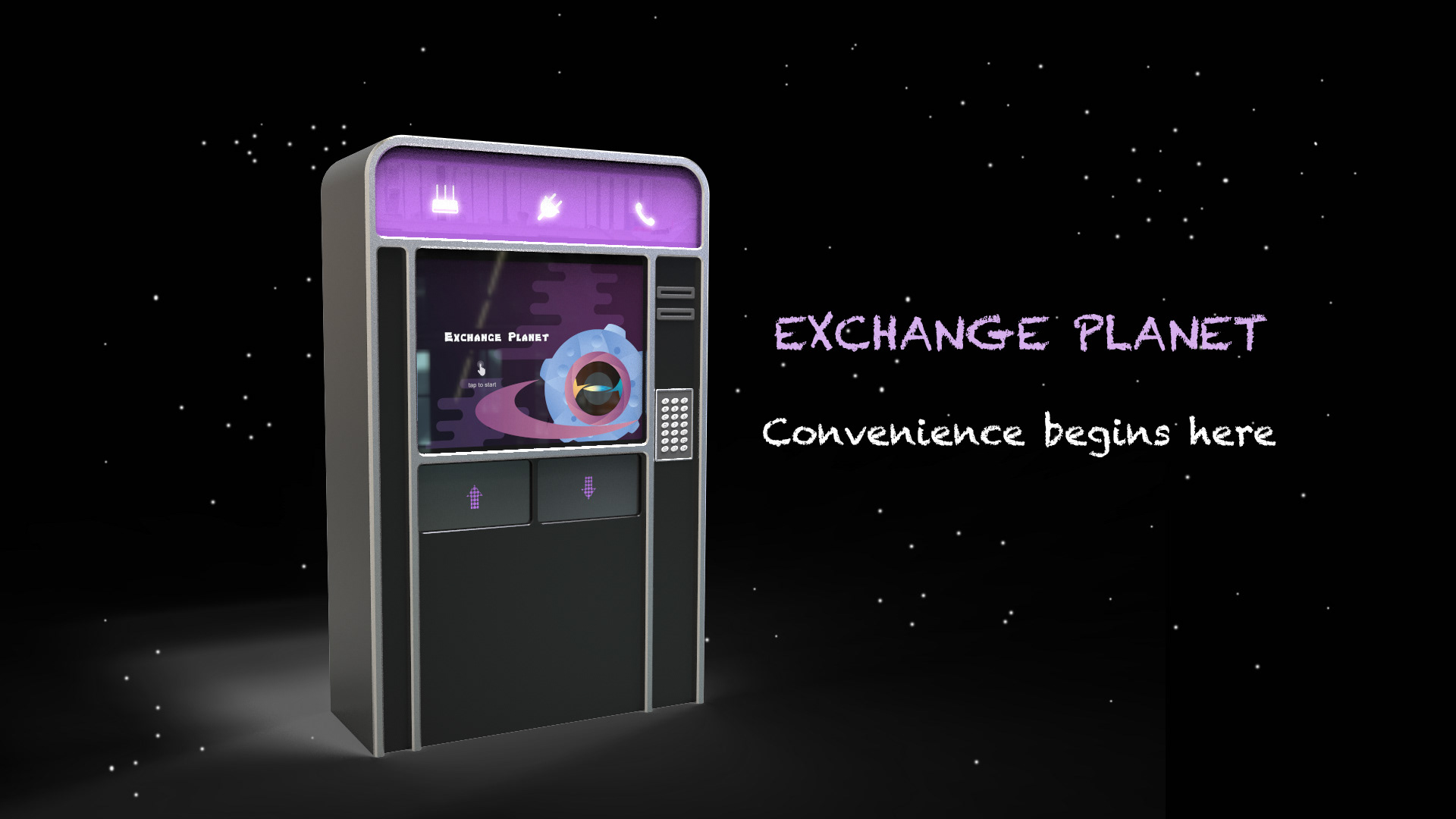 After series of analysis, mock-ups and user tests, Exchange Planet was well received by international students, which was rewarding for me because it not only solved a real problem of a particular group, but also taught me to ask why and find supporting evidence before further reasoning.
In this project, I mainly focused on user reasearch to identify a specific problem and find evidence to detailize and push forward the solution. If I were to do it again, I would consider the problem in a more practical and broader way. Does the size suitable for an adult to operate? Does it necessary to take up much space to place it? Does it suitable for longtime placement? Could it be used for other purpose at the same time to enhance its usage? How frequently should a staff renew these items for sale? Can we refund the money by electronic payment? Would a delivery service work better than a self-service machine? Could the solution be generalize to other universities or workplaces, and to different countries? By considering these questiones, I gradually realized that design is not about being a good artist but about being a good thinker: by using multidisciplinary knowledge to insight into a problem, then turning it into potential solutions.